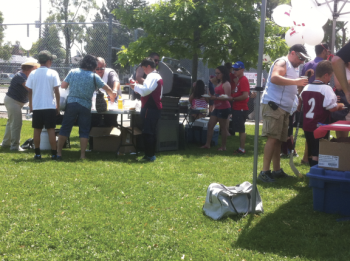 By Sayada Nabi
Strathburn Park was decorated with Canadian flags, and red and white banners on the afternoon of July 28, commemorating the Day of Champions organized by the Emery Village Sports Association.
It is headed by co-presidents Michael Verrelli, and Joe Mandarino. Mr.Verrelli is an accomplished ball hockey, and ice hockey player with an array of accolades, one of which is a bronze medal earned in 2002 while playing for the team Canada under 18 juniors. Mr. Mandarino is also an experienced athlete, coach and general manager.
Mr.Verrelli acknowledges Councillor Giorgio Mammoliti as one of the main advocates that has been by his side from day one pushing for more arenas in the area. This has been the first year for the ball hockey league, and it had a total of 120 participants. Verrelli projects that in the upcoming year the number of participants will double. He has been hard at work trying to recruit kids that have a passion for this sport by going to various schools in the area. Councillor Mammoliti implied that the EV Sports Association is becoming an integral community-building tool as it is "bringing back families to Strathburn Park."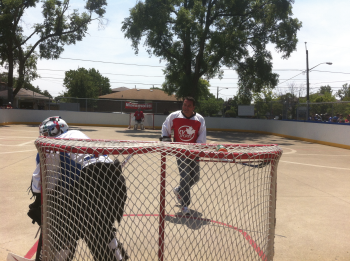 In addition to the Championship games, there was also a charity ball hockey game that featured Councillor Mammoliti, the Italian National Ball Hockey Team and Calgary Flames Captain Mark Giordano. Home grown talent Giordano, proved to be the highlight of the event for many of the kids, as he posed for pictures and autographed hockey cards and balls.
There was also a barbeque, providing the young participants, as well as their parents hotdogs and burgers. The event also held a food drive, requesting participants to donate canned goods in an effort to help the North York Harvest Food Bank. The friendly competition brought parents and children together, capturing the essence of sportsmanship and strengthening a growing community.