By Sean Delaney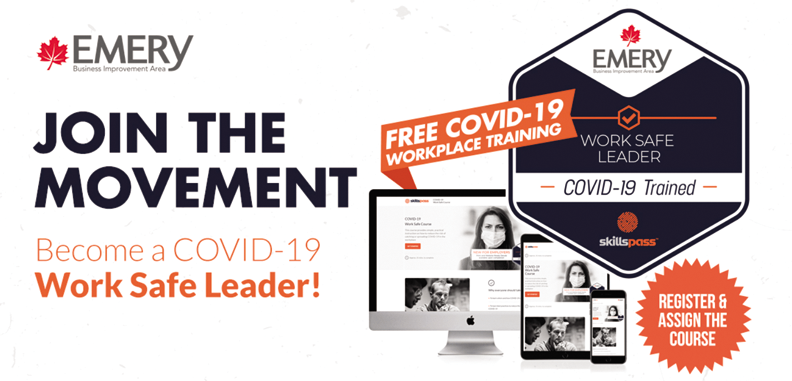 Beginning in the spring of 2020, the Emery Village BIA has offered a free SkillsPass COVID-19 Work Safe course to all Emery BIA business members and employees. The online course provides practical instruction on reducing the risk of catching or spreading COVID-19 in the workplace. Most recently, with the growing numbers of community spread infections, the workplace safety certification course has been extended to all students and residents within Emery that are seeking employment. The completion certificate is an excellent addition to anyone's resume, letting potential employers know that you take health and safety seriously.
The COVID-19 Work Safe online course was created by Bluedrop, a developer of workplace e-learning. The Emery BIA is sponsoring this informative 35-40 minute online course for members at no cost. The rollout of this program has been a first in Ontario and has been covered extensively by local media.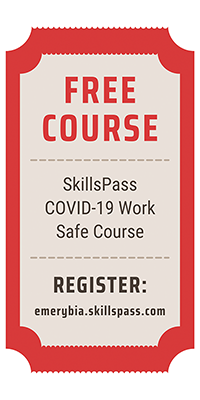 Bluedrop worked with some of the country's top medical experts, including Dr. David Mowat, former Chief Medical Officer of Health of Ontario, and Terry Sullivan, Professor with the Institute for Health Policy, Management and Evaluation with the University of Toronto. Best practices and advice from the Public Health Agency of Canada, and of course, the CDC is utilized as well.
Bluedrop has also committed to updating the course with any new information that becomes available so users will always be armed with the latest information.
All it takes to register and complete the course is an active internet connection on either a mobile device, a tablet, or a computer, at work or at home.
The Work Safe course is available for anyone currently working that requires the course as part of a condition for their workplace. And conveniently, a participant can start the online course, pause it if needed, and return to the course at any time in the future.
Please consider enrolling or ask your manager for help.
Hopefully, we can all continue developing the safest environment possible in our workplaces during this critical time.
To register, please visit:
https://emerybia.skillspass.com/