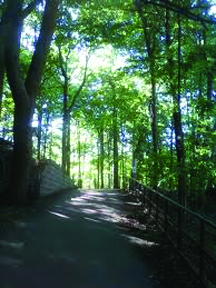 The Humber River Valley was part of an early passage into Huronia used regularly by natives and European traders and settlers. The Humber Trail, or the Toronto Carrying Place, actually followed the east bank of the river along what is now Riverside Drive. After Yonge Street was constructed in 1796, the Humber River declined as a major route inland because overland travel aided by the horse, and later rail, was not restricted by low water levels or the availability of boats.
South Humber Park is located on the west bank of the river across from the Humber Marshes, just north of the Humber Sewage Treatment Plant. The former Metropolitan Toronto purchased the former Humber Valley Golf Course in the early 1950s, but did not dedicate the remaining land as open space until 1955. One year earlier, the Humber Valley was severely damaged by Hurricane Hazel. To prevent similar disasters from reoccurring, a program of public ownership of other lands in the floodplain was initiated.
Directions: The main entrance to South Humber Park is at Stephen Drive, just north of the Queensway. Public transit includes the Prince Edward 66 bus and the Queen 501 streetcar which stop near the Humber Sewage Treatment Plant. Pedestrians and cyclists can travel through the park on the Tommy Thompson Trail, using the Queensway and Stephen Drive entrances.