If you reside in Emery Village, you share with most residents of the GTA the daily stress that traffic congestion brings to commuters and pedestrians. Traffic has become one of those things we all dread, because like death and taxes it is not going away. If you're the owner of a business or involved in running a business in the BIA, the issue of traffic congestion takes on even greater significance. Deciding where to locate is crucial to businesses these days. Emery Village is favourably bordered by two major Highways, 401 and 400, and covers several of the major city roads, including Wilson Avenue, Finch Avenue, Weston Road, and Steeles Ave. These roadways, and other arterial streets that link them form the vital transportation corridors connecting business-to-business commercial traffic.Just to the east, at Keele and Finch, lies one of Canada's largest fuel terminals responsible for the distribution of gasoline to every one of the hundreds or so gas stations that keep all our vehicles fuelled.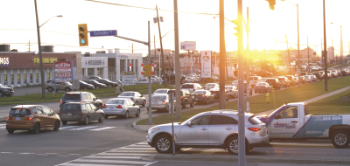 Most long term residents and commuters can recall the days when travel times were shorter, roadways less congested, and rush hours confined to predictable times during the day. Times do indeed change. Business owners, residents, workers and commuters all share concerns for the growing traffic gridlock that threatens the very fabric of our city and how it functions. The Toronto Board of Trade recently announced that the Organization for Economic Co-operation and Development (OECD), "concludes that the lack of transportation infrastructure is the leading drag on our region's global competitiveness". According to Metrolinx, the provincial body helping fund Toronto's transit projects, gridlock is costing the region $6 Billion annually. No one disputes we have a problem, it's the solutions put forward that has us in knots. Fundamentally, two sides have emerged-subway proponents.
As an organization representing over 2,500 business and commercial property owners, Emery Village BIA recognizes the need to raise awareness and engage the business community in discussions over transit and traffic. Encompassing one of Toronto's largest designated Employment Zones, the BIA's members rely on their timely access to the crucial transportation corridors. Early in the process we were involved in Transit City public outreach to bring the LRT along Finch. Metrolinx has now taken over the project, but has yet to resume those discussions. Broadly speaking, as stakeholders our members have every right to be concerned.
For these reasons, our Board of Management hired experts at Cole Engineering, a respected transportation consulting firm to look more closely at the impact of the planned LRT along Finch to vehicle and truck transportation. At a glance, the study has uncovered much to justify our initial concerns. Transit City's haste to produce a plan for the Finch LRT, little thought was given to the impact and disruption the Finch LRT will have on businesses and truck transportation. Our worst fear is that these delays, bottlenecks and detours would endure past the construction phasing and may force many industries and small businesses to relocate or close altogether. Residents should also be concerned that by straining the capacity of Finch to accommodate truck traffic, trucks will end up using routes like along Weston Road where additional truck traffic is even less acceptable and is feared unsafe.
Arguably, better transit should lead to fewer cars on the road and thus less congestion. Short of a paradigm shift in North America's reliance on their cars, and reversing Toronto's appeal to the many who continue to move here and the GTA, traffic congestion will not go away. Reducing the capacity of our roadways will only worsen gridlock in the near and foreseeable future.
We will be releasing the Cole study in the near future. Hopefully, Metrolinx will take heed. To its credit, the City of Toronto has taken the initial step to identify, preserve and promote Employment Zones in the city. The next steps are to maintain, and yes, improve the critical infrastructure of our transportation corridors. If the intent of the LRT is to enhance the use of transit and thus ease traffic congestion, mainly cars, it should not be at the cost of forcing our businesses to move elsewhere for lack of adequate roads.