Reno Kitchens at dream prices
By Sean Delaney
Cowry Kitchens Reno was created 12 years ago by Peter Chen with a singular vision that remains today. Give the customers a high-quality product at a price they would want to pay.
"He started in Vancouver having recently moved from the United States," said Brad Chopra, Business Development Manager. "And when he looked at the prices of kitchens, he thought it's extravagant, and people are getting looted."
Chopra explained that high renovation prices are often due to middlemen eating all the profit through markups. From the manufacturer to the wholesaler, the retailer and then the contractor, a project that could start at around $3,000 could reach $12,000 when it gets to the customer. Add the installation and one kitchen was costing $12,000 to $15,000.
"And that was 12 years ago when inflation was much less than what it is today," Chopra said.
So Chen thought, why don't I give the customers the benefit of my contacts, because he was directly linked to manufacturers at that time, and supply better or equal quality at around half the price. And that was when he was not a very big buyer, and he too was starting out. Now, he is a big buyer and has bigger pockets, so he is making bulk orders and has the Cowry price down to about one-fourth of what it was.
"Right now, the company model is to sell the kitchen bundle for $3,499," Chopra said."And this quality doesn't include any particle boards. It is all solid wood in the front, maple only, and in the back only plywood."
And they are doing this all for a 10 ft. by 10 ft. kitchen, which is bigger than the average, and inclusive of different measurements. In other words, if your kitchen is 15 by 5, to Cowry, it is the same thing.
The $3,499 price includes the cabinets, countertops, backsplash, sink faucet and tiles. Everything.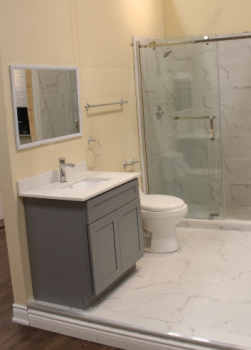 "We just participated in a recent home show in Toronto, and people could not believe that was the price," Chopra said."Most people said, oh, what is it? Made of particleboard. And when I showed them plywood and maple board they were awestruck."
Cowry makes their bulk orders, ensures the manufacturing is done to Canadian standards and sells directly to customers. No middlemen.
"We are the product suppliers, so if someone has a local contractor they want for install, we will also help them out," Chopra explained. "But their prices will be standard so they cannot charge you an insane amount for anything."
Cowry also has a bathroom bundle for $989, which includes all the tiles for the floor, a bathtub, tiles for walls, vanity, toilet, sink, and all the bathroom accessories. And customers can choose a stand up shower panel.
"This price is completely insane," Chopra said.
Their bundle for complete renovation of a bathroom, including demolition and install, is $3,499.
"Eliminate the struggle with contractors," Chopra said. "Pay us the money, we will get the job done for you. You have piece of mind."
If Cowry interests you, their process is simple, and comfortable. Come to them and they will show you the product, with a number of them on display in their showroom. If you like the product you pay a small non-refundable deposit of $175 that is used to see one of their staff visit your house, measure everything, show you a drawing in 3D, and then even allow you to make whatever changes you want. They give you a quote of $3,499, or something else if you ask for extras. They then give you the final quote with installation included, and get the installation done.
The company also has an app available in which you can measure and design your kitchen, and even purchase.
You can find Cowry at 5701 Steeles Ave West
Or phone them at: (416) 887-4168
Your dream awaits.