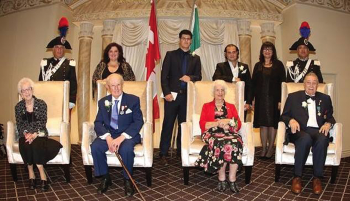 On Friday, June 2, the National Congress Of Italian Canadians (NCIC) celebrated its 29th Ordine al Merito Gala. The NCIC is dedicated to raising awareness of the many positive contributions Italian Canadians continue to make to Canadian society. The Ordine al Merito is an award of excellence that was created in 1988 and since then, it has presented its highest award of merit to many Canadians of Italian heritage that have made outstanding contributions to our society.
Congratulations to:
Ordine al Merito Award recipients: Dr. Laureano Leone, Jackie Rosati,
Toni Ciccarelli, and Cav. Uff. Giuseppe Simonetta.
Youth Achievement Award recipients: Christopher Dallo and Santino Di Paola