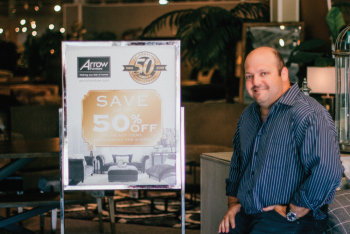 50 years of furniture and family
By Sean Delaney
Arrow Furniture is celebrating 50 years of leading the retail furniture business in the GTA. With four stores across the city, and half a century of experience in providing their customers the comforts and quality needed for their home, office and cottage furniture, it's no doubt they're a leader.
But even today, it's their passion for their customers and staff that keeps them on top of their industry, said Jason Michaels, manager, and family member.
"We're proud of who we've become, and who we are," Michaels said. "There are not a lot of third-generation businesses around anymore. And we have very low employee turnover. We have employees who have been here for 20 to 25 years. It's a family, and our customer is not a number. They have a name, our sales staff follow up, keep in touch and get involved. That's Arrow."
Michaels' grandfather was in the furniture business for more than 50 years, and previously to 1969, Leon's Furniture wanted to enter the furniture market in Toronto. They were in the outskirts and looking to partner with someone in the city.
"And they found my grandfather, and a store called Times Furniture," Michaels said. "They were partners for a while, and then they were bought out and split up, and in 1969, my grandfather and father started Arrow furniture."
Now, Michaels, his brother, and his brother-in-law run the business.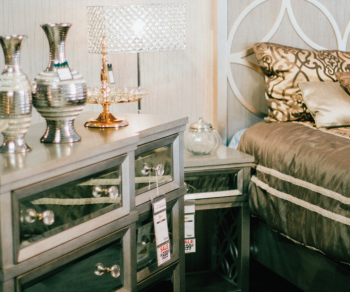 Arrow has always been about value, service, style, and quality on top of anything else. In the last ten years they have focused more on not being the lower end discounter but also don't want to be the higher-end retailer that many can't afford as well, Michaels said.
So Arrow has found a very nice niche, a comfortable middle where for just a few dollars more, they know they are supplying their customer with a quality of furniture that will match up with any, but also an affordable experience that will keep them coming back.
When customers walk in any of the stores, he said, it's style. A beautiful store, a purposeful décor, something they can envision and will want within their own home.
"Looking at furniture is a daunting task. When I moved into my first home, and I needed furniture, it became clear how hard it is to do. You have to like it, your spouse has to like it, it has to be within your budget, and you may not be a stylist. So, we have an interior design team that will go into your own home, take measurements, talks to you about tastes and styles, all for a small deposit," Michaels said. "Then you can come back into the store after, and if you purchase from Arrow, the small deposit gets included in the purchase. So, it's basically a free service."
Arrow is having a 50th-anniversary sale. Many items are up to 50 percent off.
"We've worked very hard to get a lot of savings for our customers," Michaels said. "But it won't last. It will probably continue until the end of October, but who knows what's going to happen. We can only celebrate our 50th once."
The business was named after Arrow Road, where they have a 64,000 square foot head office location in Emery Village, and they are proud to be a long-serving part of the community they call home.
Visit them at their flagship location at 35 Arrow Road, or their Brampton, Mississauga or Scarborough locations.
All details are available on their website at www.arrowfurniture.com, or call them at (416) 743-1530.