[/url]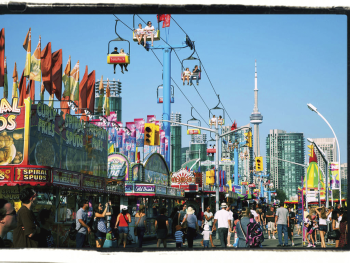 The Canadian National Exhibition (CNE) is Canada's largest annual community event.
Founded in 1879, as the Toronto Industrial Exhibition, the CNE has enjoyed a distinguished history as a "showcase of the nation". It was "the place" where people came to experience the latest innovations in technology and commercial products as well as performances by many of the leading artists of the time. Although the CNE has changed over the years, it continues to be one of Ontario's great annual traditions.
The CNE is currently one of the 10 largest fairs in North America, and its audience truly reflects the diversity of Toronto and the region.
In 2013, the CNE attracted 1.36 million visitors over the 18 days of the fair.
Celebrating 136 years of food tradition, including the 60th anniversary of the iconic Food Building, the CNE's love affair with all things tasty, inventive and extreme is more apparent than ever with the reveal of this year's NEW fair foods. Culinary adventurists can rejoice with offerings such as butter coffee and spicy sriracha peanut butter rolls, while those who prefer the 'classics' can indulge in elevated adaptations of grilled cheese, waffles, funnel cake and ice cream. PLUS – a beloved Toronto food institution, Fran's Restaurant, is making its CNE debut in the Food Building with an all-new CNE-inspired menu!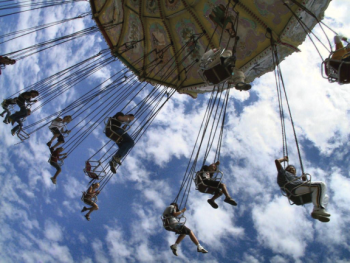 GET READY, SET, EAT!
FRAN'S RESTAURANT: Known for their home-style comfort food, Fran's is bringing a bit of nostalgia and a lot of creativity to its CNE menu with foods such as the Big Breakfast Maple Toast with bacon, sausage, sunny-side egg, drizzled with maple syrup; Spicy Peanut Butter Sriracha Rolls; and Thanksgiving Waffles made from cranberry stuffing loaded with roast turkey, mashed potatoes and house-made gravy among its menu. (Fran's Restaurant, Food Building)
COCOA-INFUSED FRIED CHICKEN: The most recent mash-up of food invention out of Los Angeles is coming to the CNE! Fried chicken is getting the chocolate royal treatment – incorporating cocoa in every step of the process from the marinade, to coating and seasoning! The result: a juicy, not-too- sweet, crispy fried chicken, served with a side of chocolate-ketchup! (Coco's Fried Chicken, Food Building)
LIQUID NITROGEN SORBET & GELATO: Three young culinary scientists have applied molecular gastronomy to frozen treats, bringing an all-new sensory experience to the CNE. Made-to-order nitrogen concoction of Passion Fruit & Guava is just one of the refreshing flavours offered for a truly 'cool' experience. (Eative, Food Building)
content courtesy theex.com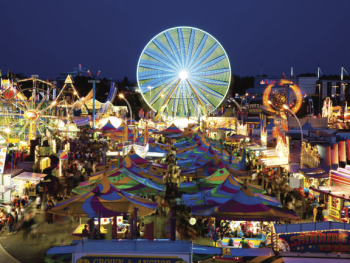 BUTTER COFFEE: Skim milk and soy are so passe´...for health-conscious hipsters, it's all about using organic butter in coffee. Touted for its cholesterol-regulating properties and being rich in Omega-3 essential fats, and even believed to be an appetite suppressant, a dollop of butter a day (in your morning brew), may just keep the doctor away. (Hula Girl Espresso, Food Building)
CROWBAR: A buttery croissant baked with a chocolate bar inside! The Crowbar comes in popular selections such as Mars Bars, Kit Kat and Reese's Cup! (Hula Girl Espresso, Food Building)
S'MORE BAO: A campfire classic is reinvented in a traditional Asian bun, called a "bao". Marshmallows, sweet milk cream, hazelnut, chocolate and crushed graham crackers are melted between a soft and fluffy bun. (Far East Taco, Food Building)
THE "FUN-ANA": A hybrid between corndog and funnel cake...this banana is dipped in chocolate and coated in funnel cake batter, then deep-fried and sprinkled in icing sugar! (Meester Mike's, Midway)
ELVIS' GRILLED CHEESE: The King of all grilled cheese sandwiches! All of Elvis' favourite foods – peanut butter, banana, bacon and cheese - are melted into two hunka slices of Texas Toast. (Coffee Zone, Midway)