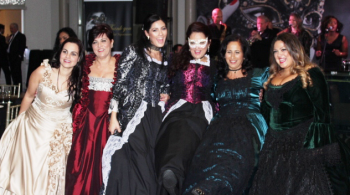 By Sean Delaney
On Friday Oct. 27, the Emery Village BIA hosted the third annual Emery Charity Gala in support of local charities. More than 350 guests were treated to the opulence and grandeur expected of a venetian doge – ornamental colombina masks, gilded table-sets and champagne flutes contributed to ambience.
The evening featured a succulent display of antipasto before a formal three course dinner. Beyond the sate of the feast, guests were treated to a silent auction, awards and an evening dance.
The live sounds of the Senastions Showband had everybody dancing to rhythm.
Councillor Georgia Mammoliti spoke briefly of the progressive initiatives and developments of Emery Village to the cast of onlookers. He stressed the economic progress of Emery and the unique pride of its citizens
Sandra Farina, executive director of the BIA, was pleased with the turnout and lauded Emery for its growth among her portfolio of more than 2,200 companies.
The Emery Village BIA has established a mandate of giving back to the community in which it was born.
Be it the Humber River Hospital, Children's Mental Health or some other noble cause, the BIA seeks to assist those in need.
Finally, the Gala featured the Emery Business Awards which recognized the contributions of deserving local companies. Among those celebrated were Sven Nielsen, Bad Boy Superstores .Louise Russo and Lucy Catania were also recognized for their ongoing community involvement. Please look inside the newspaper for the full details.
Thank you to all the attendees of this year's gala and all are looking forward to the fourth annual gala in 2018.