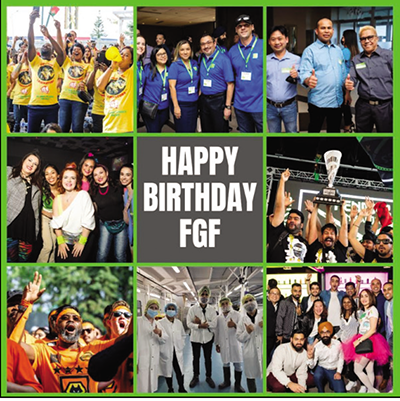 Congratulations to FGF Brands in Emery.
FGF Brands is marking its 19th anniversary.
Since its inception almost 20 years ago, FGF Brands has been a beacon of quality and innovation with products like Santosh, Simple Joys® — Muffins, Sliced Cakes, Stonefire® Authentic Naans, and ACE Bakery® Bread to Inspire. These beloved items have become household favorites, making indulging even more special.
A company's success lies in its products and the dedicated team, loyal customers, and valuable partners who contribute. FGF Brands is an example of what can be achieved with collaboration, dedication, and a commitment to excellence.
To the loyal customers, your unwavering support and trust have been the backbone of FGF's continued success. Your love for their products has inspired the company to keep pushing the boundaries of culinary delight, ensuring that each bite is nothing short of perfection.
To our friends at FGF Brands, here's to a champagne birthday celebration filled with joy, gratitude, and the promise of even greater accomplishments in the years to come. As we celebrate 19 years of manufacturing greatness, we also celebrate your impact on our lives.
For those who are interested in joining the FGF family and being part of this incredible journey, visit their website at: fgfbrands.com
Whether you're a passionate food enthusiast, a dedicated professional, or simply eager to be part of a dynamic team, FGF Brands offers a world of opportunities.
Once again, congratulations to FGF Brands in Emery. Your commitment to excellence has set new standards in the industry, and we eagerly await the next chapter of your remarkable story.
Cheers to 19 years of greatness and beyond.