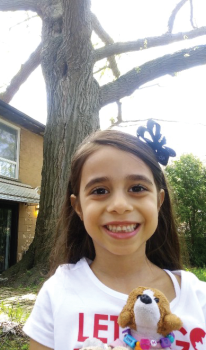 By Maria Maiolo
Sophia Maiolo was just six years old when she fell in love with a giant Red Oak tree. Her love of the great outdoors was obvious when we spoke about nature. Those conversations led us to explore where the largest and oldest tree in Toronto was located. And to our surprise it was close to home, just 10 minutes away.
On Coral Gable Drive we found a colossal, stunning and unbelievable Red Oak Tree (Heritage recognized) behind a detached house where the land dipped down.
Upon arrival, we were astonished. We stood along the city's curbside and gazed at it "Mama I cannot see the whole tree. A house is in front of it," Sofia said.
We could only imagine it as a whole entity. After heading home, we began searching the internet to find out more about this tree. We came upon column after column, this tree was famous. We found out that Edith George, advisor to the Ontario Urban Forest Council, was the Red Oaks' stanch supporter. Ms. George knew everything regarding its history and we hoped that one day we could chat about it.
Not long after our nature excursion in early April 2017, Sophia saw that her cherished Red Oak tree was in danger. A television broadcast said the tree was being threatened and might face the axe. Sophia was upset to hear that a beautiful and special living thing would be chopped down. This is where children surprise us the most, because she immediately wanted to save the tree, and asked me what could be done. It took me a few days to figure out some strategies and lift her spirits. We began by spreading the word and collecting money to save this majestic tree on Earth Day April 22, 2017.
Sophia approached her family and friends to sponsor this tree and help her save it. She then went door-to-door, had garage sales, asked students to pitch in, and donations were pooled from guests of Edith George's presentations on heritage trees.
To-date Sophia has risen close to $2,000 and would like to help the City of Toronto purchase the land in hopes of protecting the tree and turning the land into a parkette.
"This is a cultural heritage site. This is the Mona Lisa of trees…when you have a six-year-old raising money to help the City of Toronto protect things, we should listen to that," said Ward 38 councillor and Toronto East deputy mayor Glenn De Baeremaeker.
For those that are interested please donate to: https://www.gofundme.com/toronto039s-350-yr-old-red-oak-tree