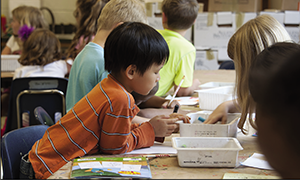 The following recommendations are intended to help JK to Grade 12 schools and school boards reduce the spread of COVID-19. They are based on provincial Ministry of Education guidelines,
For publicly-funded schools (i.e. Toronto District School Board (TDSB), Toronto Catholic District School Board (TCDSB), CS Viamonde, and CS Mon Avenir, where there is a difference between this guidance document and the school board's internal policies and procedures, the school board's plan should take precedence.
The summer is about to come to an end, and for thousands of school age children around Ontario, and particularly here within the GTA, that means a return to classes and studies. For many, the pandemic has raised questions about the return to the classroom for fall 2022. While information is constantly updated, the Emery Village Voice has sought out the most updated guidelines as of our August print.
The Province of Ontario has released updated operational guidance for schools for the Omicron variant. Toronto Public Health's guidance for schools is consistent with the guidance provided by the Ministry of Education and the Office of the Chief Medical Officer of Health.
An increase in COVID-19 activity is being seen in Toronto. Toronto Public Health (TPH) continues to recommend the following tips to reduce the spread of COVID-19:
Start with staying home if a student is feeling unwell.
Wear a well-fitted, high-quality mask in indoor public settings to protect yourself and others from COVID-19 infection especially if individuals are at higher risk of getting very sick from COVID-19, if individuals live, work or spend time with someone who is at higher risk of COVID-19, such as someone who has a weak immune system or is a senior.
If individuals are in a crowded indoor setting with poor ventilation.
Public Health measures still in place include: daily symptom screening, encouraging COVID-19 vaccinations for those who are eligible including boosters, hand hygiene and respiratory etiquette, ventilation and cleaning and disinfection practices.
Recommendations for schools to reduce the spread of COVID-19 include staff, students, and visitors completing screening for COVID-19 everyday
Students, staff and visitors should be given a screening questionnaire PDF to complete each day before arriving at school or use the provincial school screening tool.
To support ongoing surveillance and transparency related to COVID-19 impacts on schools, schools should monitor their own absenteeism rates. If absenteeism of student and staff rises to a defined level (approximately 30 percent above their baseline) in schools, principals should notify TPH, as per Ministry of Education guidance.
In alignment with community masking requirements, the Ministry of Education is no longer requiring masks for students and staff in schools, school board offices and on student transportation.
As some students/staff may choose to or be required (under certain circumstances) to continue to wear masks, school boards can continue to make masks available.
Schools and Boards can continue to encourage mask use especially indoors and/or in crowded settings and/or in areas with poor ventilation, while respecting individual choices regarding masks based on one's own risk assessment.
School boards and schools are encouraged to promote respectful, welcoming and inclusive practices and communications within their school communities.
For those who continue to wear masks, schools should ensure they are given the opportunity for mask breaks in the school day. Mask breaks can occur outdoors or indoors if physical distancing is possible.
Schools without HVAC systems should increase ventilation by opening windows (when possible) and classroom doors. If portable fans are used, limit the blowing of air across people and surfaces and provide an upward movement of air.