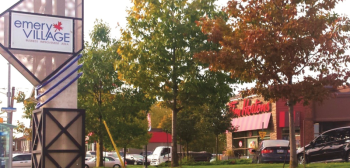 By Sean Delaney
(Due to some concerns we're not mentioning the full name of one of our sources) .
Workers depending on every paycheque, could be impacted if the coronavirus pandemic worsens, said an official for a large local manufacturing facility in Emery Village.
Amid the COVID-19 outbreak, several businesses in Canada have had to change their work schedules, ask employees to work from home, or temporarily close operations.
Large and small companies have taken these steps to ensure the safety of the consumers and workers.
Taylor, an HR manager at a company in Emery that employs about 200 workers, said if the coronavirus situation continues to intensify, several employees can be affected.
"A lot of employees are only making minimum wage, and they rely on that money — paycheque to paycheque, he said. "We're kind of hoping this situation just doesn't get worse."
Some employees were allowed to work from home, Taylor added, and that personal protective equipment was being issued to the workers.
"The company faces challenges as operations continue with some employees working in very close proximity to each other. Also, we see a considerable slow down in sales as our customers are experiencing similar difficulties, and some of our supply chain materials are held up now in the US."
The COVID-19 pandemic has also caused food operations to change their work strategies to provide customers with food as safely as possible by delivery or take-out.
Ralph Shepherd, the owner of a local Tim Hortons at 2304 Shephard Avenue West said the restaurant chain remains open to lessen the anxiety of consumers by providing them with their favourite food during this stressful time. He said he's seen a change in the way customers buy their food.
"The drive-thru has gone from 60 percent of sales to 80 percent," Shepherd said.
Customers will be happy to know that the washroom facilities continue to be open even while the indoor part of the restaurant is closed.
"The washrooms are being cleaned and sanitized every 30 minutes. Many of our customers are preferring to wash their hands before eating after they have picked up their food at the drive-through," he explained.
The Tim Hortons owner adds that he understands why many people find it safer to get their food via drive-thru while avoiding going directly into the store. And, he said the employees realize the importance of their role during this time.
"The employees are happy to work under the current conditions to provide these staple foods to the customer base," Shepherd said. "I can't thank my loyal staff enough for their continued dedication."