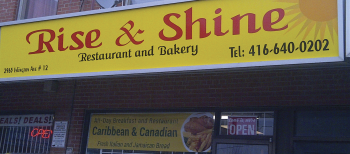 Rise and Shine
Good food, for a good price…
Marcia Brown – Owner
Nikki Rotundo – employee
Have you ever wondered what it would be like to own your own restaurant? Marcia Brown did for many years up until four months ago when all of that wondering became a reality. Brown is the owner of Rise & Shine, All-Day Breakfast and Restaurant located at 2963 Islington Avenue. The name Rise & Shine is one that Marcia thought about as she enjoys the morning, and her shining personality is one that her customers seem to be taken notice to. Marcia's passion for cooking and people is what lead her to open her restaurant.
When asked why she decided to open a restaurant here in Emery Village she explained how the community is what attracted her. The multi-cultural population along with being familiar with the area helped.
She knows that being a business owner can be tough, especially when your success is directly linked to the community and their support. She is overjoyed with how well the community has taken a liking to her traditional yet unique cuisine. Rise & Shine offers quite a range of menu items from traditional Italian veal sandwiches to their ever so popular, sweet chilli chicken and oxtail.
Brown could not be happier with her decision to open her own restaurant in Emery Village. She wants to make sure that her customers are well taken care of, and to ensure this she has hired great staff who are also proud to be community members.
"Working here, is like working with family," said staff member Nikki Rotundo.
That is special, and something community members look for when going to a new breakfast or lunch spot in the community.
People want to feel taken care of, which is exactly what Rise & Shine does, they take care of their customers. You heard it here first, try Rise & Shine next time you feel like good food for a good price.