A simple idea became a booming business in a great community
Accident Support Services International LTD
is what Steve Sanderson and his two business partners called their great idea back in 1994. His roots at Emery Village however, started 51 years ago when in 1963 he had a towing business. This blossomed and led him to the idea of what is now a terrific collision reporting centre business across Canada.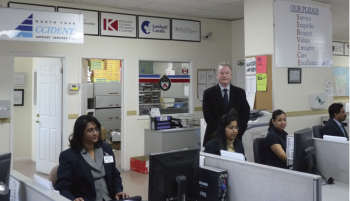 With 28 centres across Canada (and more to open in Alberta and Nova Scotia in 2014), what started out as a pilot project is now changing how drivers who have been in an accident report their collisions. It also improves the safety in our community in several ways.
For example, when a collision happens on the road and the police are notified there is a step-by-step process that takes place. Once the parties involved are given the okay to drive, they report to one of the centres where a staff member walks them through the insurance process and answers any concerns or questions. In addition the person meets with a police officer and has all the paper work explained in detail to them. This allows the person involved to be in and out of the centre without having to wait at the side of the road for a police officer to arrive like in the past, and potentially cause another accident.
"We're making our community safer, by allowing the police to free up officers to focus on other aspects of the community and allow people to visit the centre when it is convenient for them," Sanderson said.
With centres open 18 hours a day, seven days a week this makes it very manageable and user-friendly. The centres are capable of communicating with people who speak over 17 different languages. Additionally, the car is photographed so no insurance fraud can take place.
Accident Support Services centres is continuously making changes and improvements to how they do business. For example, everything is now electronic which allows the information being recorded to be sent out to different places quickly and efficiently and also reduces the time someone has to spend at a centre. Steve's lifelong passion for cars and community go hand in hand and he could not be prouder that this amazing idea has blossomed into something which has transformed safety in our community and across Canada.