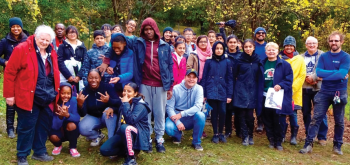 By Sean Delaney
Climate change is real. There is little debate anymore. The devastating effects of some of those changes, whether drought, heat waves, fire, hurricanes, or others are now being witnessed. Luckily trees, through the process of photosynthesis, can help clean the air.
On Tuesday, Oct. 22, nearly 80 trees and shrubs were planted at Rowntree Mills Park by a Grade 4 and 5 class from Venerable John Merlini Catholic School and a Grade 8 class from Humber Summit Middle School. The students were supported by school trustees Ida Li Preti and Christopher Mammoliti.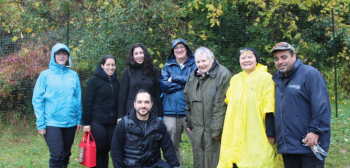 "Tuesday's steady rain did not dampen anyone's spirit when over 80 trees were planted in the park," said Edith George. George, who has been an advisor to the non-profit Ontario Urban Forest Council for more than 10 years and has lived in the Humber River - Black Creek area since 1960, helped spearhead the initiative. Grant Evers, a resident of Humber Summit and head of the local ratepayers association, created Residents Revitalizing Rowntree Mills Park, whose objective is to encourage the organization of positive activities in the park. This was the first tree planting to have taken place in this park in many years.
"My sons planted coniferous trees in the park 25 years ago when they were just five years old as an activity of their Beavers group, and here we are back again," Evers said.
Alice Casselman, of the Association for Canadian Educational Resources (ACER) demonstrated an initial measurement of the new plantings. The idea is that students will collect data on the health and yearly growth of their tree plantings as they explore issues surrounding climate change. Hands-on involvement with the planting site throughout the process engages them and helps make the issues of climate change relevant, Casselman said.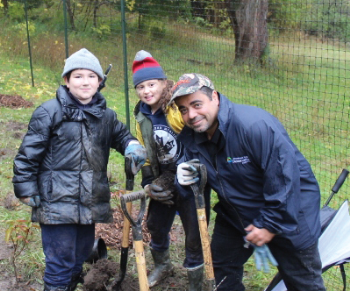 "Then they can get climate change into their heads with knowledge of how they can help fix the problem, and then let them feel it in their hearts," she continued.
The newly planted species will spend the next six months growing roots and in the spring sprout leaves. It is the taking of vital, ongoing measurements, of the various plantings that will lead the city to decide which species thrive the best and which ones they should start growing at that point, given that it takes two or three years to grow decent size saplings.
Vince D'Elia and his team from the Toronto Regional and Conservation Authority (TRCA) provided the group with shovels, mulch, and buckets and demonstrated proper tree planting techniques. Minaz Asani-Kanji and Cynthia Hashie of "Park People" and Janette Harvey of the Toronto Urban Forestry Department also attended and lent their support.
"We have received confirmation that we can plant 125 trees and shrubs in this park for Spring 2020," D'Elia said. "Rowntree Mills Park is setting a standard for all public parks by initiating tree monitoring for newly planted trees to see which tree species can handle climate change. We are proud of being part of this grassroots movement."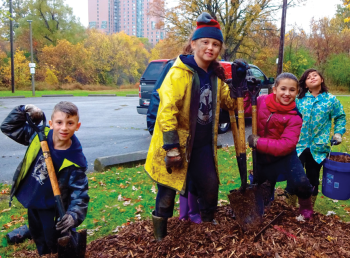 There is a long way to go for the world to fight climate change, everything has to start somewhere, so congratulations to these students who were so willing to get their hands dirty to make a difference.