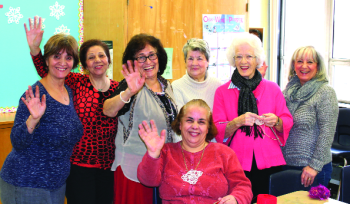 By Sean Delaney
A group of local seniors are answering any concerns their Emery Village community members may have had about what to do and when to do it by meeting at Carmine Stefano Community Centre on Wednesdays at 9:30 a.m. for tea, food and art.
Local business Rainbow Signs has donated art supplies and staff time to help out, and The Emery Village Voice recently spoke with some of the active community members about why they love the opportunity.
Lee Jackson
"Over the years people have come to me and said there is nothing for our seniors to do, so I thought, why not do something about it? And that's what I did. I got a room here and we have everything from painting, crocheting, knitting and everything is coming together.
It's fantastic to stay active and get out with friends.
We have music, a kettle to make tea, people are bringing treats, and maybe later on if we can get a line dancing teacher, we think we can start line dancing."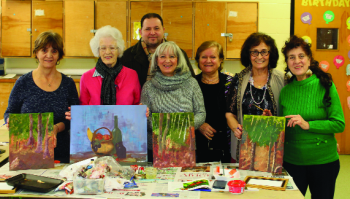 Ron Yankiver
Rainbow signs businessman helping out the group.
"The ladies came to us and asked if there is anything we can help them out with specifically for the art classes, or even to work with different kinds of art. We handle painting, crochet, macramé, quite a bit of different things.
So, Rainbow is happily providing them with easels, paintbrushes, paints, everything they need to be active – and we donate the time to come in and help them. The goal is for them to enjoy the relaxation and the socialization that's possible here. They've brought a radio to listen to music, everyone has brought in food, there is a community feel and the more we can get them involved, the more support they have, the better it is for the entire community and them."
Lucy Catania
"I've been painting for the last 16 years. I took a few art classes and can spend time with the artists. Painting is the nicest thing that can happen to a young senior like me, or all the seniors, who want to come out and do something.
More and more are coming out every week. I share what I know, and just like everyone else I enjoy painting and people.
Some of these ladies have never painted before but it grows on you. They do it and they're happy.
Come out and try it. It's a great group and you will surprise yourself how much you will enjoy it."