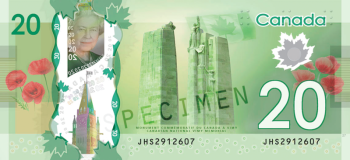 By Sean Delaney
Banks are arguably one of the most important institutions that we have in Canada. Most Canadians, whether they be teens or retirees, have deposited what they've earned, withdrawn money used for what they live on and invested their income for the future. It is safe to say that it would be hard to foresee a future without a secure, reliable, and accessible banking system.
We are fortunate that Emery is home to all major banks that operate in Canada.
Banks, like many industries and businesses, have come a long way in setting up their online banking applications. Online banking is easy to use and perfect for those with access to an online computer or mobile device. But not all of our community members can meet those requirements and need to visit their local bank once or twice a week. The government still mails out many required payments such as CPP and Old Age Security. For many, these cheques are their lifeblood. Many groups, including our seniors, need security and not to worry that there might be a disruption in banking.
"We have business continuity plans in place to ensure we continue to meet your needs even in times of disruption such as this. This includes having some members of our team working at alternate office locations or from their homes to ensure continuity of service," said Victor Dodig, President and CEO of the CICB.
"There are restrictions on business travel, limiting group meetings to our team members, and cleaning protocols for public spaces such as our banking centres and offices. Besides, our online and mobile banking services are available 24/7 to allow you to bank from home, and we operate one of the largest ATM networks in the country to help you with access to cash or bill payments. The environment is rapidly evolving, and we remain committed to keeping you informed every step of the way.
"The Canadian banking system, more broadly and CIBC specifically are strong, well-capitalized, and ready to support our clients through this period."
The Emery Village Voice caught up with Pina Grignoli, Manager of the CIBC branch at 2973 Islington Avenue.
"The bank is taking these times very seriously," he said. "We have taken every precaution to keep both our staff and our valued clients safe. CIBC has reduced hours, opening from Monday to Friday, 10 a.m. to 4 p.m. while this situation continues. We are letting four clients in at a time to make sure that there is social distancing. Our clients seem very happy to see that we are taking these cautious measures."
Grignoli said they have a sign posted on their doors that lists best practices and how customers can avoid exposure to this virus.
"Our voicemail has changed to ensure that our clients are aware of our new hours. Please call us if you have any questions. All in all, we are still open for business at CIBC Islington and Steeles," he said.