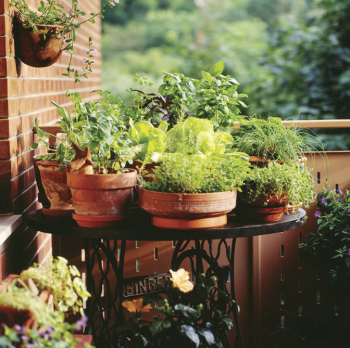 By Ron Lazzer
Who says living in an apartment means not being able to enjoy the beauty of plants and flowers? Why can't a balcony be as beautiful as a backyard? What is the difference between backyard gardening and balcony gardening?
You can have a view from your balcony that is just as beautiful as a backyard or front yard garden with some additional benefits as well. Balcony gardening tends to be smaller than a yard so you'll spend lees time looking after it. You will also have the flexibility to move plants around to completely change the look and feel of your space. A balcony garden can also be a much more intimate space due its size. Imagine chatting with your children or connecting with a friend over a coffee while admiring your beautiful view.
Here are three strategies for getting the most from your balcony garden. Take into consideration the amount of light you get. If you're facing north, you will do much better with shade tolerant plants since it is always shaded. If you're facing east you will benefit from early morning sun which almost all plants love. Choose the right plant for your space.
Use your plants to frame a view of an interesting subject. Look out over your balcony for a point of interest and frame it with the right plants and flowers to draw attention to it or even use plants to mask an unsightly view and direct your focus to your beautiful garden.
If you have an apartment that gets a light breeze consider a fragrant plant. You will be amazed by the perfume scent that can fill your place when the right plant is thriving on your balcony. Mother Nature is her own air freshener.
Learn more about balcony gardening by taking advantage of the many free resources that encourage it. Google 'balcony gardening' and visit a local nursery, home improvement store, or the Toronto Public Library. They all have free seminars at various times of the year about balcony gardening.
Keep these two points in mind as well. Children like to climb so if you have little ones don't stack planters too close to the edge. Also, check with your building's management to make sure your plans are allowed. Most buildings allow containers on balconies, but it's always a good idea to check first.
Apart from that, let your imagination run wild with the possibilities. Show everyone what a beautiful space your balcony is and they will be encouraged to create their own. And if you are especially proud of your creation, send me a picture and we could print it for everyone to see and enjoy. Happy (balcony) gardening!
Ron Lazzer is the owner of Bellevue Landscaping. If you have any questions or comments please email them to: Ron@BellevueLandscaping.ca