By Sean Delaney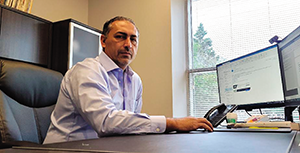 It appears the worst might be over.
Finally, after nearly a year of not knowing which direction case numbers would go next, what variant might become the new hindrance to a return to normal, what news may come out about vaccine concerns, finally, it appears one can confidently have hope.
""Our hope now is we can follow the trends going on throughout the world," said Emery Village BIA Vice-Chair Silvio Carnovale. "As we get vaccinated, we get to lift a bunch of restrictions and get businesses operating at 100 percent."
And now that the light at the end of the tunnel is blinding, Carnovale said he would like to see governments and business organizations work together to promote programs that help businesses get back on their feet, find staffing, and operate with updated and correct information on their operations.
Carnovale owns businesses in the children's recreation industry and technology in the hospitality and construction industries.
He spoke about how he believes the year went from not enough information and guidance about the severity of the potential coronavirus, to a period of uncertainty and misguided support that now leads to new issues that the business world will grapple with. And he hopes the proper authorities develop the right solutions this time.
Going back to the end of March (2020) when COVID-19 started and the first restrictions came in, I think in the first part of it nobody was sure how quick this was going to end," Carnovale said. "I think a lot of business owners at first thought this is going to be a 30, 45-day thing, and we'll be back in business again. I don't think a lot of companies prepared for the longevity and how long it would take to get over it."
It was an initial hurt and a hard one, Carnovale said. Not being able to correctly forecast immediately the length of how long this closure was going to last didn't allow businesses to get proper plans in place, or for support and resource agencies to confirm what would be needed.
"If you look at how the government supported businesses, they did come out with loans, part of those could be forgiven, etc. But nothing, even with the first loan that came out, helped the sole-proprietor.
There was a wage subsidy to help with staffing costs, but none of that could go to a business owner. So if you didn't have the staffing, you didn't qualify for support. This affected every small business, where owners took dividends or small salaries; they weren't entitled to that wage subsidy. So, I really feel the actual owners themselves were forgotten throughout this."
And now, Carnovale wants to see the government work to incentivize workers to go back to work. He said the support programs that are in place are going to make it difficult for some industries, and owners need that help with staffing.
"I think that's where part of the problem is for the small business owner," he said. "I think enough was done, the government did a good job of taking care of workers and employees, with wage subsidy, CERB, but nothing was done for owners themselves. I think that was a mistake on the governments side, in forgetting about them. In addition to that, I think the government needs to encourage people to go back to work. As long as CERB and those things are available, there is not a lot of incentive to go back to work for some people."
Carnovale also believes the government could have given kids more recreational options throughout the year. With schools closed for in-class learning for most of the year, no summer camps in 2020, he felt kids were really put on the back burner, as there wasn't much available for them.
"I thought that's where the government on the federal and provincial level made a big mistake. I think a lot could have been done in small groups or one-on-one, such as guitar, soccer, lacrosse, or golf. I think the approach of just saying nothing was available for kids hurt them and hurt businesses that could have at least had some small revenue on an ongoing basis."
As the pandemic eases and the restrictions to battle it, Carnovale said he and the BIA are calling on the government to provide more precise information and direction.
"As the pandemic went on, and the restrictions that were implemented were subject to ever changing information, that hurt businesses," he said. "We never had a chance to forecast where we need to be a month, three months, six months from now. As an example, here they are talking about opening into Phase 2 early, but businesses need to plan for that. So whether it's a restaurant that will need to buy supplies, a recreation facility that needs to start planning programs and get staffing, I still think they're not giving businesses enough time to react to the changes."
As the Vice-Chair of the Emery Village BIA, Carnovale said their group has put a strong case forward to all levels of government. He said the BIA has had conversations with representatives of all levels asking for them to clear up information and provide coordinated and accurate messaging.
"What happened with a lot of different businesses was misinformation was put out between what the provincial government put out publicly and what the provincial health minister would put out for bylaw officers to enforce, and nobody would ever want to clarify the information out there."
Carnovale said the BIA spent the year making calls, reaching out to ministers, government officials, and more to ask questions for businesses. Now, they want to see better communication.
He said he would like to give credit where it is due. Many thanks to the staff of the Emery Village BIA for their hard work throughout the year and to the staff of Tom Rakocevic, MPP for Humber River-Black Creek.
"Both of those groups have been a saving grace through all of this."