By Sean Delaney
Christian Springett is setting new standards for sprinting in Emery, and neither he, nor his family saw it coming from the soft spoken, hard working student.
"He's an interesting kid because I never knew he could run, that he was fast," said his father Robert. "We never knew he was capable of running the way he did."
Springett went to some track tryouts at Gulfstream school however, for fun, and in all the sprinting races, including the 100m, 200m and the 400m took first. This was Grade 4.
He then visited Centennial for conference heats, and lost his first race – the 60m hurdles. It was the first time he had done hurdles. The second race, to qualify for the next heat, he won. And he has never lost another race in hurdles until this day. Next was conference finals, competing in Toronto against all the schools. He won. Then he represented the city, and won every race again and the cities title.
He is now working with a coach at York University. Over the winter season, he's run five different meets, including the provincial championship.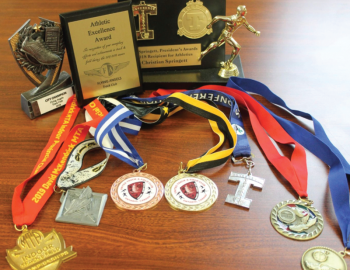 Oh, and he won. He's presently the number one ranked for his age group, and has competed against 14 and 15 year olds, at 10 years old, and won.
In the provincial championship, he put up a 10.12 in the 60 m hurdles.
Springett is about to be honoured with a banner at his home school, Gulfstream Public School. The city provides one if an athlete wins a gold medal for the city. It will fly before this season.
"We never had to push him at all," Robert said. "He gets his bags ready and calls people to pick him up, because I teach at the college and his mother works, he calls the neighbours to pick him up and take him to the track every day." "It's fun," Christian said.