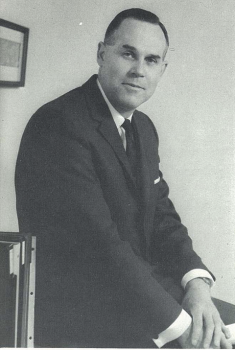 An educator and foundation builder
.
BY SEAN DELANEY
"I hope you were happy, and you enjoyed your days at Emery."
After achieving so much himself, this is the only request of the humble and accomplished Allen Merrit.
"And that you learned something and that when you left school to that job or whatever, you were prepared. English, math, history, that you were prepared for what life had to offer. And that they enjoyed their days at Emery. I wanted them to be happy."
The Emery Village Voice is proud to profile a contributor to the education system at Emery Collegiate and discern his formula for successful education and happiness.
In 1961, Emery Collegiate Institute officially opened their doors as a secondary school. Charlie Brown arrived from Earl Haig Collegiate and was appointed to serve as the first principal of the school along with a trustworthy lieutenant, Allen S. Merritt. Merritt would serve as first Vice-Principal.
Merritt received his BA from the University of McMaster in 1944 and began training as a Lieutenant for the Canadian Armed Forces in Brockville and was stationed at Yarmouth, Nova Scotia. After V-E day, Merritt volunteered again and was trained in Vernon, B.C. by U.S. forces to lead an expected invasion of Japan. The war ended abruptly and Merritt went back to university to receive his MA in history from the University of Toronto in 1947. Merritt then became a History and English teacher at Humberside Collegiate near High Park in Toronto where he also coached the senior boys' basketball team to two city championships and one provincial final. Merritt felt that teaching at Humberside was a successful educational experience because, "The kids liked their teachers and the teachers like their kids."
It was this experience that would lay the foundation for the need of strong leadership in the education system in following years, he would say.
In the late fifties, Merritt relocated from Humberside to teach history at Downsview Secondary School in North York and in 1959 transferred to York Mills Collegiate in Don Mills. Over the next five years, he co- authored two separate textbooks (The Rise of Western Civilization and Canadians and their Governments). Both are used by the educational system on the subject of history throughout all of Ontario.
With the building of our community's new secondary school in 1961, Merritt became the first vice-principal of Emery Collegiate Institute followed by him becoming principal in 1963. Many initial duties fell upon "the lieutenant" to take a leadership role including staffing and officiating at the opening ceremonies.
With Brown's departure, Merritt then took over the reins of the school in 1963 and immediately focused on recruitment in order to get suitable teachers matched for the pulse of the community. Merritt felt that younger teachers would ideally serve in some posts and might be better suited for Emery's students as a whole.
His favourite memories are a first theatre production of the classic Our Town.
"That was good. I wanted a play people in the community could relate too. And it used a lot of students, and it's an excellent play," he said.
And second is a 1969 open house.
"It was our first time, and cars lined the street. They were lined up for miles, the kids just had a ball," Merritt said. "And that's the key. Good teachers have fun. We used to have one, two laughs a period. You've got to have fun."
- with files from Tim Lambrinos