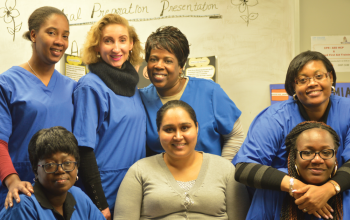 By Sean Delaney
City College has been around since 2014, and to date, has trained more than 400 Personal Support Worker (PSW) students in the Emery Village area and beyond.
"The PSW plays a great role in the healthcare system," said Unna Fuller-Fletcher, Director of Operations. "They enable seniors to age at home and improve the healthcare experience in nursing homes and retirement homes."
Often taken for granted, Fuller-Fletcher said the PSW is the frontline worker in private living, family-based settings, nursing homes, hospitals, long term care facilities, and more. They provide patients with a variety of services.
"Prior to COVID-19, PSWs were virtually unnoticed," Fuller-Fletcher said. "But as a result of the shortage of PSWs, we have seen so many deaths in nursing homes and other places."
City College offers a complete PSW training program and other complementary programs that can lead to full-time employment quickly.
They have a Developmental Service Worker training program that Fuller-Fletcher highlighted. It equips students to work with anyone with any form of developmental disability.
The PSW program is 35 weeks in duration and teaches its students the skills to look after people in nursing homes, long-term care facilities, hospitals and other settings.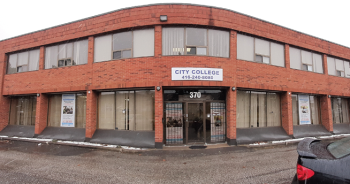 As well, they offer a Computerized Accounting program which has a strong QuickBooks component to it.
"A lot of organizations and industries out there are looking for bookkeepers using this software," she said.
City College, Fuller-Fletcher added, is passionate about student success. They begin with a proper assessment and selection of a program that fits each student's career goals. They provide financing options, flexible payment plans, and all their instructors are certified and experienced. Each of their programs also has a job placement component.
As a result of the COVID-19 pandemic, students are doing a blended program today. The theory is done online, Fuller-Fletcher said, but programs that are practical in nature see students come on campus to do that component. Students are also sent to nursing homes and long-term care facilities for hands on experience.
For example, the PSW program sees students spend about five months doing theory, then about three months in nursing homes or long-term care facilities. The Developmental Service Worker program will see students spend seven months in class and five months in a group home or group home type setting.
And the school gave credit to the Emery Village BIA for helping all of their instruction continue.
The college was a participant in the COVID-19 worksafe program offered by the BIA.
"The college has to give thanks to the BIA for allowing our staff and students to participate in the COVID-19 worksafe training program," Fuller-Fletcher said.
"The program has helped our students recognize the importance of worker and student workplace safety and how to prevent exposure to COVID-19 in the workplace. Going back on campus would have been difficult for many of us until we did this program. The COVID-19 worksafe program helped us to assess the risk in the workplace and helped us to implement measures to reduce the risk, as well as helping us to understand and maintain physical distancing."
City College sees classes start in September, January and May and offers flexible class times in the mornings, evenings, and weekends.
To find out more, contact the college at: 416-639-1729
Email them at: contact@ctycollege.com
Or visit them online at: citycollegetoronto.com