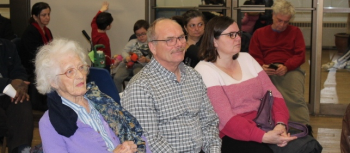 By Sean Delaney
MPP Tom Rakocevic and Councillor Anthony Purruzza held their first ever New Year's Levee on Saturday, January 12. It was an afternoon that saw many firsts. Not only was this the first levee celebration for both gentlemen, but it was also the first time, post the old Ward 7 and 8 amalgamations, the members of merged neighbourhoods had an opportunity to socialize.
The levee welcomed roughly 200 well-wishers to the Northwood Community Centre for the three-hour event.
While mainly a social gathering, the levee also provided people with an opportunity to not only talk to their Councillor and MPP but also get acquainted with the constituency support staff, ask questions and offer their ideas for the community.
Addressing the revellers, Rakocevic said he was excited to be with friends and neighbours ushering in a new decade. He wanted to let everyone know it had been a hectic year for him at Queen's Park. He is always looking for every opportunity to bring ideas and legislation forward, to improve the lives of residents in his riding of Humber River- Black Creek, he said. The MPP also said he is looking forward to 2020 and continuing his hard work on the issues that matter.
Equally enthusiastic about addressing the crowd, Councillor Perruzza took the time to review some of the hard work his office completed in canvassing the old Ward 7 area and getting to know the issues and opportunities he can bring forward to city council on their behalf.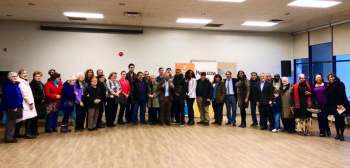 New this year, the councillors office created a Neighbourhood Awards program to help recognize local residents who contribute something unique to their community.
"This is an important way to connect and celebrate each other's strengths in the community. All of the awards recipients had their names brought forward by members of their community," Perruzza said.
An example of some of the awards are the Seniors Advocate Award - the MVN (Most Valuable Neighbour) Award - the Green Neighbour Award and the Local Business Award.
Congratulations to the following recipients; Mark Tenaglia from CPLC, Vivian Broersma from CPLC, Ameris Cristofoli, Anna Stella, Livia Savioli (volunteer), Celia Smith (community organiser), Janey Latouche, Andrea Tabnor, Doug Jones, Brianna Barsattie (youth volunteer), Jasleen Kambo (youth volunteer), Ihsaan Khan, George Yanchula, Carmen Escobar, Marina Lacona, Paul Salvatori, Wanda McNevin, Reverend Sky Starr, Pastor Olu, Kevin Hegarty, Meredith Lloyd Richardson, Winston Clarke, Suban Abdullahi, Mary Armstrong, Grant Evers, Sylvia Cappellacci, Stephnie Payne, Kiet Cao, Joe Pantalone, Yusuf Yildirim and Alana Smith.
There was a big round of applause that went out to the large group of youth volunteers. They came from various schools and organizations within the community to help out at the levee.
The levee was decreed a great success and all had a fun time. From your Councillor and MPP, many wishes for a Happy New Year and have a wonderful 2020.