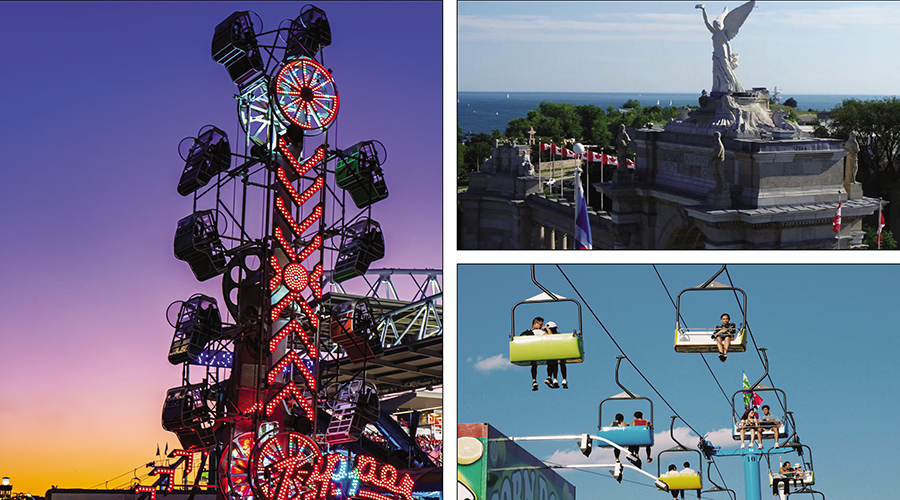 By Sean Delaney
The Canadian National Exhibition (CNE) or "The Ex," is one of Canada's largest and oldest fairs, showcasing a wide variety of entertainment, attractions, rides, food, and exhibits. Let's delve into the history of the CNE:
From the Early Beginnings (1879-1899), the CNE traces its roots back to 1879 when the first industrial exhibition was held in Toronto.
It occurred at St. Lawrence Market and showcased machinery, agricultural products, and other exhibits. Due to its success, the fair was held annually, and its popularity grew over the years.
In 1904, the fair moved to its current location, which was initially known as the Toronto Industrial Exhibition and later became known as the Canadian National Exhibition.
The site is located near Lake Ontario and covers a large area, making it suitable for hosting the ever-expanding event.
Throughout the early 1900s, the CNE evolved and expanded its offerings.
It became a showcase for technological advancements, innovations, and cultural displays. During World War I and World War II, the CNE played a significant role in supporting the war efforts and boosting morale.
The CNE reached the height of its popularity in the post-war era. It became a symbol of progress and prosperity for Toronto and Canada as a whole. The fair attracted millions of visitors from around the world during these decades.
The 1970s and 1980s marked a period of decline for the CNE, as it faced competition from other forms of entertainment and changing consumer interests. However, efforts were made to revitalize the fair, introducing new attractions, concerts, and themed exhibits.
In the 21st century, the CNE continued to adapt to contemporary tastes and interests. The fair added more diverse food options, live performances, and interactive exhibits to appeal to a broader audience. Despite facing challenges occasionally, the CNE remains a beloved annual tradition for many Torontonians and visitors.
Throughout its history, the CNE has hosted various iconic moments, including visits from royalty, celebrity appearances, and groundbreaking performances. It remains an essential part of Toronto's cultural heritage and a cherished tradition for generations of Canadians.
Drone Shows - Crowds will watch the skies transform over the Food Building as they come to life through a colourful and dynamic Drone Show presented by Vinfast. This amazing display of light and colour takes place every night from August 18 to September 3. Please note: The CNE's Drone Show's "start time" may vary depending on weather conditions and Transport Canada stipulations.
Silent Disco - Twice a day, CNE visitors of all ages are encouraged to don headphones and boogie to music that only they can hear. Headphones are made available to patrons (each of whom are required to leave a cash deposit, government issued photo ID, or a credit/debit card, which will be returned upon their return). The events will take place on a first come, first-serve basis. This exciting "headphone disco" event will be animated by the energized DJs.