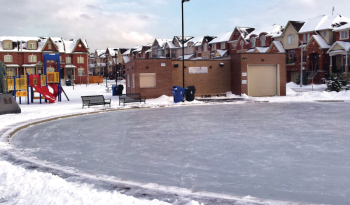 By Sean Delaney
The wintery icy skating rink located at Joseph Bannon Park is an ideal location for some outdoor wintertime recreation.
The park is in the south-east of the community at Sheppard and Weston Rd, in the south end of a large park.
The outdoor ice rink is surfaced and flooded every day by a Zamboni operated by the City of Toronto's Parks & Recreation departmental staff. There is no fee for skating on the ice.
The history of the launch of the park began with assertive and constructive coerciveness by Ward 7 Councillor Giorgio Mammoliti.
The main construction partners, Lindvest Properties, were appropriately impressed with the concept of creating a large public park for community use. Together with the Emery Village BIA, the park and rink were both created. The park has an outdoor children's play area and also serves as a perfect setting for Emery Village BIA's summertime Movie in the Park, as well.
The ice area is listed exclusively for pleasure skating and there is no hockey ever permitted on the tiny rink.
The rink is opened every icy day throughout winter until the overhead flood lights turn off at 11 p.m.
So if you want to try your new or old skates out, just strap them together and get yourself out to the rink to enjoy a special and convenient skate.