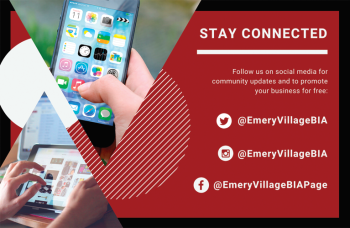 Message concerning the current health crisis from the Emery BIA's Board of Management.
Greetings to all in Emery Village. To say this has been a challenge for all businesses and workers in the commercial sector of Emery, would be an understatement. We trust that the challenging precautions that everyone has undertaken to see us past these unprecedented times will soon pay off. Statistics are starting to show that the Province of Ontario's preventive actions have been working to help prevent the spread of the virus. All of the additional sanitizing, cleaning, hand washing, and social distancing that everyone is practicing so diligently, at work and home, is essential to help keep the COVID-19 coronavirus at bay.
The government is now offering financial subsidies to ensure that employment and business will continue operating and hopefully rebound more quickly when this period has passed.
Please visit the Emery Village BIA website at: www.emeryvillagebia.ca
There you will find up to date information about available financial assistance programs.
Recently, we have made changes to our website to reflect the most immediate needs in support of our businesses. We believe that our priority in this time of crisis is to ensure that the Emery Village stakeholders and community have the tools and timely information from the most appropriate sources to guide us through, build sustainability and safeguard the health and safety of our residents, employees and business operators.
The staff of Emery's BIA has honoured a request by the City of Toronto, that we too, stay isolated. The BIA Wilson Avenue office is not currently open for walk-in service during this health crisis. However, all telephone messages and emails are returned each day. We encourage you to reach out to our office by email at: info@emeryvillagebia.ca
Or by telephone at (416) 744-7242, for any request that you may find helpful for your business or your work.
Our Board of Management has made sure that the exclusive to members security service, is patrolling Emery's industrial core and continuing to monitor all streets, identifying vandalism, loitering, and potential break-ins. To take advantage of the BIA's enhanced security services, it is essential to make sure that we have an up to date Trespass to Property Act (TPA) authorization form on file. In addition to a TPA, you can also fill out our Temporary Change of Operating Hours form so that we can alert our security team to those changes.
You can find both security forms on the Emery Village BIA website at: www.emeryvillagebia.ca
Look under the Member Services tab – Security Emergency Plan.
We also have one last request. If your business needs to close temporarily for any reason, again, please call us at (416) 744-7242 or email at: info@emeryvillagebia.ca
We will make sure that our patrols are aware of the changes.
Of course, an extra round of thanks and gratitude should go out to all the essential front-line workers in Emery's employment sectors, including manufacturing, supplies, maintenance, transportation, and construction.
As well, all those required to work in our other essential services during the pandemic, including health care providers, police officers, firefighters, grocery stores and gas stations. We also extend our gratitude to the many restaurants doing take-out and delivery, butchers who remain open for curbside pickup and deliveries, and the many others that are assisting our sheltered seniors, to more easily cope in these difficult times.
Together we will get through this and be able to come back stronger than ever.
Please exercise preventive practices while operating your business for the critical sectors in the workforce during this current state of a health emergency.
On behalf of the Board of Management of the Emery BIA, we owe everyone a continuing round of gratitude.
Thank you.