By Sean Delaney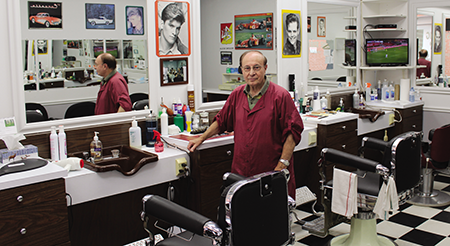 Sam Salvatore has grown his barbershop through hard work, and conversation
"I enjoy working for my customers," said Sam (Salvatore) Parisi, owner of Sam's Men's Hairstyling and Barbershop. "Over the years, it's become a friendly shop. They come, I give them coffee, although now with the pandemic I can't do much, but usually, they come to talk sports, have an espresso from my machine, and get a haircut."
One step into Sam's shop on Islington, and you can't help but recall the classic barbershop. The striped pole, the community members, hanging out for a chat, and the smell of the shaving cream being steamed off a face in the back with a hot towel. It's all the little boy from Sicily ever wanted. And you can see the contentment in the smile on Sam's face today.
"I started when I was 13 years old," he said. "My father sent me to work in the barbershop, and at 16, I was a complete barber in Italy; in Sicily, it was my first job."
Sam immigrated to Canada in 1967 when he was 19 years old. An aunt sponsored his travel, and he arrived in the Dufferin area in the late 60s. He worked for several places, he said, staying in the haircutting game and plying his trade. When he began work at a shop in Brampton, he saw a pace and pay he hadn't previously, and he dug in. He worked alot, and hard and began to save what he could.
He lived in the Islington area, and when the shop he owned today came up for sale, he knew what he wanted to do.
"I worked hard for 15 years for that opportunity," Sam said. "When this came up for sale, I bought it, in 1997, 24 years ago. I start slowly, but I built a clientele. I have people come from Bolton, Maple, Woodbridge, and other places."
Sam is 73-years-old today, he said, and on a pension, so his wife has asked him to slow down.
But slow down for a hard worker like Sam has meant reducing his hours to a normal business schedule of 9 a.m. to 5:30 p.m. Monday to Friday, with a 9 a.m. to 4 p.m. opening on Saturday.
"We talk, we laugh, people come and see me," Sam said, pining for the days prior to and after the pandemic, so he can enjoy a coffee and a conversation with a customer again.
"The hairstyles change, young people come in, they show me a fade or something on their cell phone and ask me to do it, and I do it, no problem. If they have the right hair for it, I always tell people," Sam said, laughing. "If they don't have the hair for it, I can't do anything for them."
But as Sam said, and as he dreamt, his shop has become more than just a spot for haircuts. Especially in his later years, Sam has said, he's come to enjoy the people and the neighbourhood as much as the work.
"I love to do what I do, and I love the people I get to meet," he said.
Check out Sam's Men's Hairstyling and Barbershop at 2965 Islington Ave, (In the Italian Gardens)
Reach him by phone at: 416-749-4781