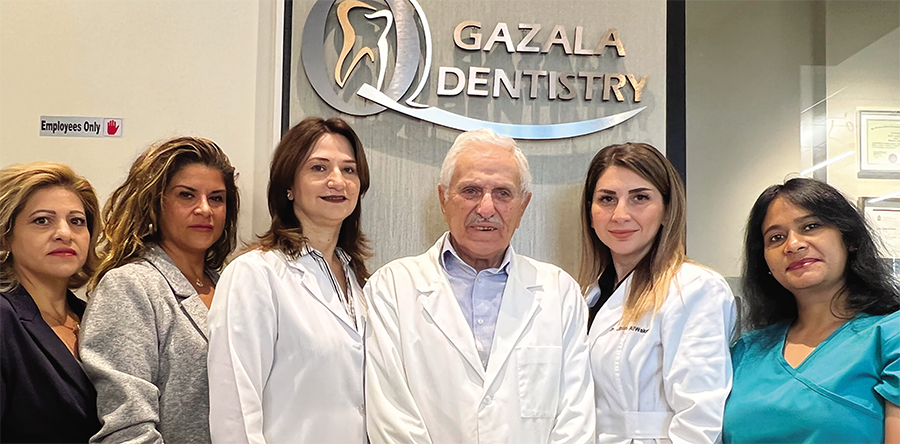 By Sean Delaney
Gazala Dentistry is your home for all your dental needs.
And the Emery Village dentist specializes in making new and old patients feel right at home.
The state-of-the-art office is a modern office with all equipment and tools used in modern dentistry.
"We have three dentists in the office, and we work on different days of the week and tackle all aspects of dentistry from basic dentistry, hygiene, restorative, crowns, bridges, veneers, fillers, everything," said a Gazala Dentistry spokesperson. "If a patient comes in, we can tackle all of their problems. We can service almost any need in-house and don't need to send them elsewhere."
The eclectic setup and skills of the three on-staff dentists allow the Gazala office to also service all ages. From kids to adults, seniors, or teenagers, Gazala is ready for all patients.
Should a child need a complicated case examined and treated, they may refer to a child specialist, but outside of the odd, unique youth case, they tend to always answer to all needs of their patients.
And accessibility and comfort for all patients is a focus at Gazala. The office speaks Arabic, Spanish, Urdu, Punjabi, and more.
"We are confident we can translate for all of our patients," said the Gazala spokesperson.
Gazala is also a clinic that can make the experience easier for newcomers. They are experienced with refugees and new immigrants and can help with the process of getting treatments covered. The office is familiar with most benefits available to newcomers, including $2,000 worth of dentistry coverage available to refugees, which they said many refugees are unaware of.
And if their patient needs something unique, they will work with new patients to give them special prices on procedures or items that may not be covered.
Children are also welcome, as the Gazala office is very understanding with young patients.
Gazala dentists will give children the time they need. If they are uncomfortable with a procedure, they will spend time with the young patient to ease their concerns and have the staff and specialists in place to ensure they can have a relatively pain free experience.
And the Gazala staff are just the people to take special care of Emery's seniors as well. They accommodate late ages, middle ages, and kids, and are very aware of everyone's needs, ready to service whatever is required.
The office is open from 10 a.m. to 7 p.m., Monday to Saturday, and is doing its part for Canada's environment as well, as they are proud to be entirely paperless as well.
You can find Gazala Dentistry at 3457 Weston Rd Unit C. (very close to Finch and Weston Rd public transit routes).
Or you can call the office at: 416-746-0303