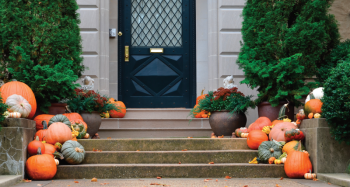 By Ron Lazzer
When I think of autumn, I think of the colours yellow and orange. Of falling leaves and fruit, and of fresh, crisp air. We start to see our breath again in the mornings and see the sun set closer and closer to dinner time. While nature seems to be winding down this is no time to give up on being outside. Here are three wonderful ideas that will keep your interest in the outdoors alive.
This is a great time of year to revitalize our homes with a flair appropriate to the season. One of my favourite things to see in the fall is pumpkins. They are so versatile that anyone with any taste can use them to decorate their homes with autumn spirit. For a simple and elegant look try placing a plain pumpkin on your front porch or steps. If you want to be more creative and exciting try your hand at carving interesting designs. This is where you can let your imagination run wild. From happy, sad, frightened, or crazy faces to scenic landscapes and abstract drawings a pumpkin can be your fall canvas of self-expression.
Another great way to bring your home alive in the fall is to place an autumn wreath on your front door. Wreaths are no longer strictly reserved for Christmas. Wreaths with yellow, red, orange, and brown leaves evoke a sense of serenity. You can also get wreaths made of mini pumpkins, squashes, and other autumn bounty. Red and orange berries on a wreath are also a nice touch. Watch as your neighbours walk by and admire your great sense of taste properly timed to the changing seasons.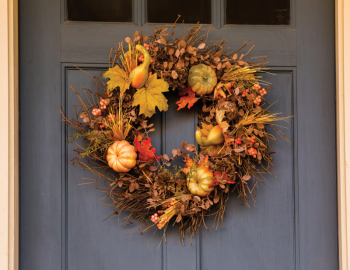 Finally, your garden is the most obvious and natural place to cultivate autumn feelings. Try mixing plants that begin to turn yellow, red, and brown with plants that stay green. The contrast will emphasize the colours and bring variety to your yard. Boxwoods and Euonymus matched with Ivy and Oakleaf Hydrangeas with shades of yellow and red will bring a new vibrant and interesting essence to your garden. If powerful colours are what you crave Chrysanthemums will serve you well if only for a short time.
Take your time and play around with different combinations throughout your home and you will revel in the fresh and bittersweet feeling of fall. Make your home the most inviting and interesting it can be to yourself and your guests regardless of the season.
Happy autumn decorating!
Ron Lazzer is the owner of Bellevue Landscaping. If you have any questions or comments please email them to: Ron@BellevueLandscaping.ca