Yesterday and Today - February 2022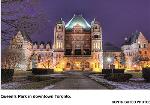 Winning a seat at Queen's Park By Tim Lambrinos The designation of a permanent capital for Ontario was a result of Canadian Parliament invoking the British North American Act (BNA Act) in 1867. The Act established newly created provinces replacing the previous provincial names of Upper and Low...
Mega city election a goodbye to incumbents

By Tim Lambrinos On Oct. 22, the City of Toronto held their municipal elections. The Premier of Ontario, Doug Ford, trimmed the political field so that our community, and the community to our east, would be represented by a singular municipal official at City Hall. The timing of t...