Councillor's Corner - Dec 2020

Dear Resident, COVID-19 infection rates are on the rise more than ever before. We need to try our best to prevent exposure to stay healthy. We should only be socializing with those we live with and making essential supply trips when needed. We may be in this situation for the long haul, but we will...
Executive Director's message - Dec 2020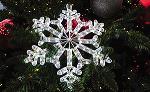 As we finish the holiday season and enter the new year, it is important to help keep our community and employees safe – we encourage all BIA members to take Emery Village BIA's SkillsPass COVID-19 Work Safe Course. Find out more online at: emerybia.skillspass.com If you have not yet done so, y...