Councillor's Corner - July 2022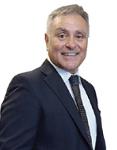 Dear Resident, I've mailed my summer 2022 Newsletter to every home in Humber River-Black Creek. This edition includes project updates about the work I've been doing with different City departments, local groups, and others to advance renewal in our community. Please get in touch with me if you hav...
Mega city election a goodbye to incumbents

By Tim Lambrinos On Oct. 22, the City of Toronto held their municipal elections. The Premier of Ontario, Doug Ford, trimmed the political field so that our community, and the community to our east, would be represented by a singular municipal official at City Hall. The timing of t...