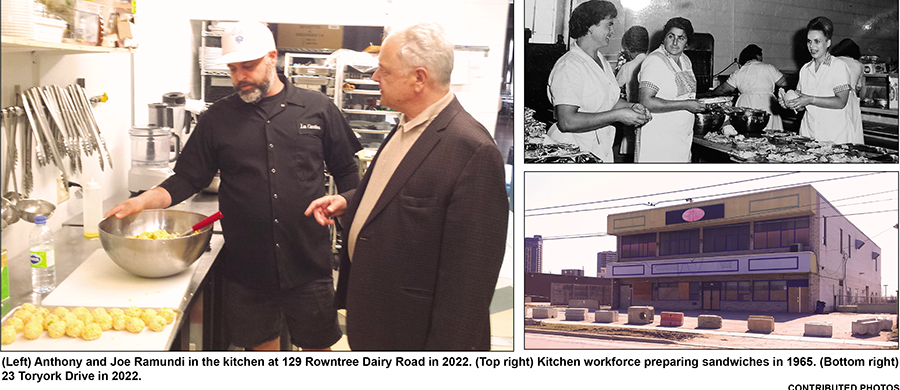 The continuing legacy of Tony's Ballroom
By Tim Lambrinos
Throughout Canada, there are individual family traditions passed down by previous generations. Some traits may be cultural, and others might merely be family traditions.
These inherited characteristics are passed down to younger generations as families continue to have faith that their values may endure, sometimes even as employment.
The foundation for major social events in Emery was established in 1845 on the farm of Thomas Griffith. In that year, the Grouse Hill Orange Lodge opened for community meetings, public meetings and other social events. The log building was located on the west side of Weston Road at present-day St. Lucie Park. By 1890, the need for a more elaborate community facility was known and a site was selected on Weston Road, just north of Finch. It was called the Canadian Home Circle Hall. By 1962, Emery's longstanding social hall was knocked down with the creation of Toryork Drive and the impending factory building boom.
Around the same general time, Antonio and Antonietta Ramundi had come to Canada from a mountainous region in Basilicata, Italy. After having two daughters, in 1958 they gave birth to a son named Joe.
In that same year, Antonio Ramundi was working in the construction trades helping to build Camillo Milani's new industrial factories and massive empire in Emery. Ramundi then quit the construction trade and began working as a bread delivery driver for a bakery. It was at this time he decided to ask to borrow the owner's bread delivery truck to sell his own fresh sandwiches at nearby construction sites. Antonietta would prepare the sandwiches and Antonio would drive a designated route to sell them.
By 1961, the family had settled into a new home on Stanwood Crescent, and they began to raise a family. In all, the Ramundi's had a very large family of eight children: Mary, Lucy, Joe, Carmelina, Lina, Teresa, Mike and Tony.
By 1964, Antonio Ramundi had the vision to expand his fledging sandwich business into something much more lucrative. It would be a business that would cater to the needs not only of construction workers but to all of the area's factory workers too. He built an industrial-sized facility on Toryork Drive near Weston Road. Ramundi opened his visionary coffee truck business at 21 Toryork Drive with a greater mission to bring fresh lunches and beverages to Emery's newly established factory workers. The business was known as Tony's Snack Service and became a fundamental service at the various construction sites and factories.
The business location eventually expanded to become Tony's Industrial Catering Limited. The building had a very large kitchen and bakery with plenty of warehouse storage for different kinds of beverages. In all, Ramundi ended up launching 150 coffee trucks that were contracted out to individual drivers. The vehicle's distinctive beeping air-horn would signal break-time with the arrival of the truck. Throughout this time, Ramundi provided fresh, quality sandwiches and beverages for thirsty and hungry workers daily.
With the immense success of his coffee truck business, in 1969 Ramundi built and opened a banquet hall right next door at 23 Toryork Drive. He named it Tony's Ballroom. The ballroom was a three storey elaborate facility with a separate kitchen on every floor. The location would serve as a stylish venue for community weddings, birthdays, baptisms, and other special functions over the next 35 years.
Ramundi's eldest son Joe had already been permitted to work at both facilities. Since there were very large kitchens in both businesses, Joe Ramundi was catapulted into the hospitality industry at a very young age.
Like all of his siblings, Joe Ramundi attended Daystrom Drive Public School. He attended the school from 1963 to 1970 and had many different teachers. He most fondly remembers Mrs. Anne Findlay and Mr. Mel Goldhar that helped shape his life in a most productive way.
Some of his favourite childhood friends during this time were James Graham, Glenn Howell, Mark Waddell and his cousin Mike Zingarelli. By 1970, Joe Ramundi began attending Emery Junior High School where one of his most memorable teachers was Mr. John Moses.
Moses taught him how to play the violin.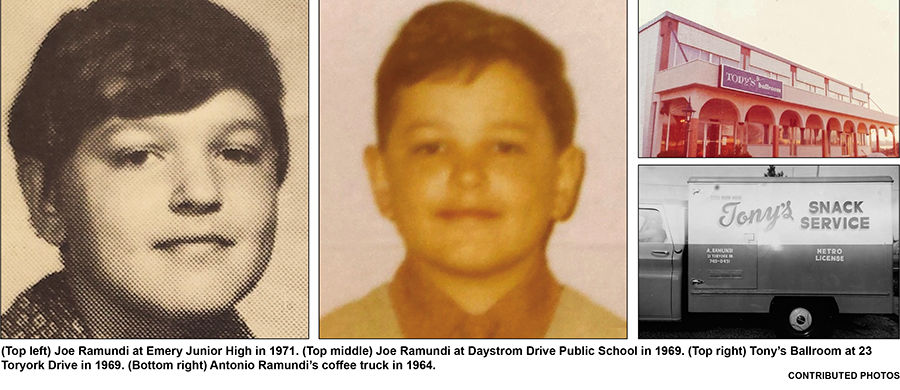 During this time, competitive street ball hockey games took place on Stanwood Crescent with Steve Kosta, Bruno Piscelli, Bruno Petrucci, Steve Penney and Joe Kuhteubl. Other notable teammates included John Pabst, Joe Marinera, Joe Maugeri and Nick Sombartolo.
The boys even had some competitive games against their rivals from the nearby Bluehaven area.
By 1973, Joe Ramundi left Emery to complete his high school education at nearby Westview Centennial Secondary School. At this time, Joe's father had built another banquet hall on Milvan Drive. Eventually, this facility was later sold and became La Contessa Banquet Hall, with Vittorio Mete as the current proprietor.
Antonio Ramundi passed away in 1975 and left his massively successful businesses to be run by his son Joe. Antonietta was indeed the family leader in bringing up eight children and steering the continuation of the family traditions. To make things easier on Joe, there had already been very competent and established management at all the family businesses. It was only upon leaving high school that Joe Ramundi, along with his brother-in-law Paolo DeFina, began to actually run Tony's Ballroom.
Joe Ramundi would sell their coffee truck business in 1978 along with the catering portion later in 1980. By 1993, Joe Ramundi was fully running the family banquet hall up until 2003 when the land was sold to developers.
At the time, the entire site was purchased by Rose Valley Homes with the intention to build a very large multi-unit residential development. These days with a new developer on public record, the precise design, scope, and size of the impending development is still under review.
And Joe Ramundi's son Anthony did carry on the family tradition and establish his own catering business at 271 Jevlan Drive in Woodbridge. The business is now called LaCantina Catering and located at 129 Rowntree Dairy Road in Vaughan.
Anthony had the unique distinction to receive all his initial industry training at Tony's Ballroom. He worked summers and weekends as a busboy and dishwasher as early as the age of twelve. This experience allowed him to be familiar with every position in the restaurant business, including the prized position of executive chef. Anthony graduated from culinary school and obtained a red seal equivalence before the age of 25.
Although Anthony Ramundi never had the opportunity to meet his grandfather, Antonio Ramundi, he remembers that his presence always seemed to still be there at Tony's Ballroom. Anthony states that it always felt incredible that the original momentum was always there while they worked everything through using all the original visions and philosophies.
It is now three generations of Ramundi's that continue to carry on the original family tradition that all began with Tony's Snack Service and Tony's Ballroom.
Sometimes a little DNA can go a long way.