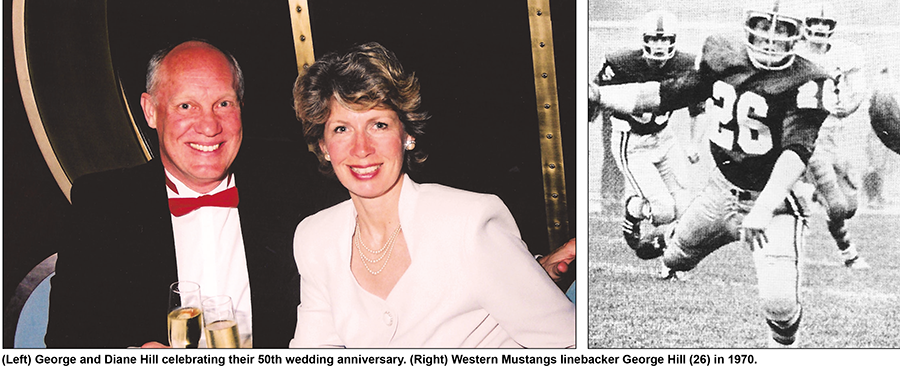 Yesterday and Today
Emery's original Hillman
By Tim Lambrinos
The recent Vanier Cup college football championship game, played on December 4th in Quebec City, thrilled fans across the nation. This game always seems to deliver excellent athleticism and youthful, competitive passion, and this year's 27-21 victory by the Western University Mustangs over the University of Saskatchewan Huskies was no exception. For some residents of Emery Village, it reminded them of a local hero who brought home the same trophy for Western exactly 50 years earlier - a story worth revisiting.
Back in the fall of 1962, young George Hill enrolled at Emery Collegiate for grade nine. Wide-eyed, and having just graduated from Melody Road Public School, George seemed like every other kid, but the true character of this Jubilee Crescent resident would begin to shine right from the first day of the new school year.
Emery Collegiate had only been open for a year when the boys' varsity football team was established with teachers Baz Mackie and William Madden donning the coaching hats. Their enthusiasm was palpable, but they initially lacked enough players to field a team. Undaunted, they reached out to the student body in hopes of filling out the roster. In the most unlikely of scenarios, a young, 140 lb new boy would step forward, and remarkably, accept the challenge of playing both right offensive guard and left defensive end - often against boys four or five years older and much bigger. That boy, of course, was George Hill. And thus the Emery football program was born.
The following year, George was moved to linebacker on defence and had the distinction of scoring Emery's first ever touchdown (yes, in their second season) on a fumble recovery in the opponent's end-zone. George's athletic talents weren't restricted to the gridiron though, as he blossomed in multiple sports. He was an outstanding member of Emery's basketball, track and field and wrestling teams. And as he matured, his role as a leader also became evident.
But it was in football that George excelled most. Playing fullback in his third year, he set another standard by scoring five touchdowns in one game. He would go on to be recognized as a North York football all-star in his final three years, '64, '65 and '66, as well as being selected as an all-star in basketball too. He was elected co-captain of the football team in '65 and team captain in his final season in '66. Capping off his graduating year, George was honoured as Athlete of the Year and appointed as the Emery's student representative for the distinguished Eaton's Student Council.
As a side-note, the football team's initial nickname was the "Redmen" - beginning in '61. Emery's early principal, Allen Merritt, had come from Humberside Secondary School, and with him came the borrowed "Redmen" moniker. But by '64, a debate raged over what to name all the Emery athletic teams. George volunteered to be a member of the Boy's Athletic Council in an effort to select a new nickname. Naturally, George Hill could be accused of having a little bias as the students announced "Hillmen" as their choice.
Yet, the school's obvious locale atop Emery Hill likely negated any thoughts that the team's name was named after George.
Throughout his high school years, George's mother worked at the Southam Murray printing plant on Weston Road and at Eaton's warehouse. George worked part-time at Southam Murray in the summer of '66, packaging Eaton's catalogues.
George is still regarded as one of the very best athletes and team leaders to graduate from Emery. But, as for influential people, George's social group at school boasted another highly accomplished member: Jacquie Perrin. Having come from Gulfstream Road Public School, Jacquie was one of the most popular girls at Emery and ultimately was selected to be prom queen. George and Jacquie both had parts in the school musical, "Who's Afraid of General Wolfe."
Unsurprisingly, head cheerleader Jacquie and team captain George would start dating. Many of their friends thought that this "dream couple" would surely marry, but destiny held different cards for them with Jacquie heading to York University and George to the University of Western Ontario upon graduation.
Jacquie's outstanding professional career in beauty contests, broadcasting and piloting are well documented, as celebrated in the Yesterday and Today column - Up, Up and Away from March, 2019. She is already on Emery's historic list of prominent persons and is an ideal candidate for new street-naming designation in the village.
George's career path would ultimately earn him great respect as well and warrant similar official acknowledgement.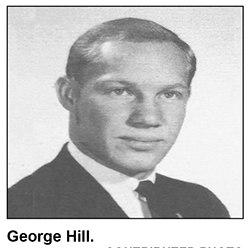 Approaching graduation in '67, George set his sights on a Physical Education Degree at Western in London, Ontario. However, the guidance department at Emery informed him that he would need to pass a French course to qualify for university. George buckled down, under the renowned tutelage of Miss Joyce Prentice, and obtained sufficient grades to qualify for post secondary school education. Other influential teaching mentors included Mr. Donald Fraser and Miss D.E. Henderson.
Late in that summer of '67, George enrolled at Western and tried out for the Mustangs football team as a quick and powerful 185 lb linebacker. He made the squad and, again, unbeknownst to anyone around, was destined to become one of the greatest Mustang players and leaders. His accomplishments eventually included being team captain, league all-star and team MVP for the Mustangs in the '70 and '71 seasons.
Capping off a stellar career in '71, the then 205 lb George Hill guided his team to a very special accomplishment, capturing the Canadian College Bowl, and winning its Vanier Cup, with a hard fought 15-14 victory over the University of Alberta Golden Bears. George's acceptance of the famed trophy with head coach Frank Cosentino was a jubilant moment that solidified the '71 team as one of the greatest in Mustangs history. George was recognized as an All-Canadian linebacker that year, won the Dr. Claude Brown Trophy as the university's top male athlete and was drafted by the Ottawa Rough Riders. Deservedly, he was later inducted into Western's Sports Hall of Fame and his name added to the Wall of Champions in 2011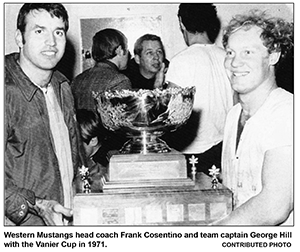 .
After university, George and his lovely bride Diane, whom he had met at Western, had a surprise encounter with former Emery Principal Allen Merritt and his wife Betty at the Deerhurst Golf Resort near Huntsville. The couples bonded, and for many years to come, gathered at their cottages to share stories of the good times at Emery.
Retiring from competitive sports, George obtained an Executive MBA from Banff School of Advanced Management and had 33 successful years in Financial Services, which included Vice President roles with Aetna Canada, Imperial Life and Allstate Canada. George and Diane Hill have been married for 50 years now, splitting their time between Canada and New Zealand and enjoying their lives with cherished grandchildren, family and friends.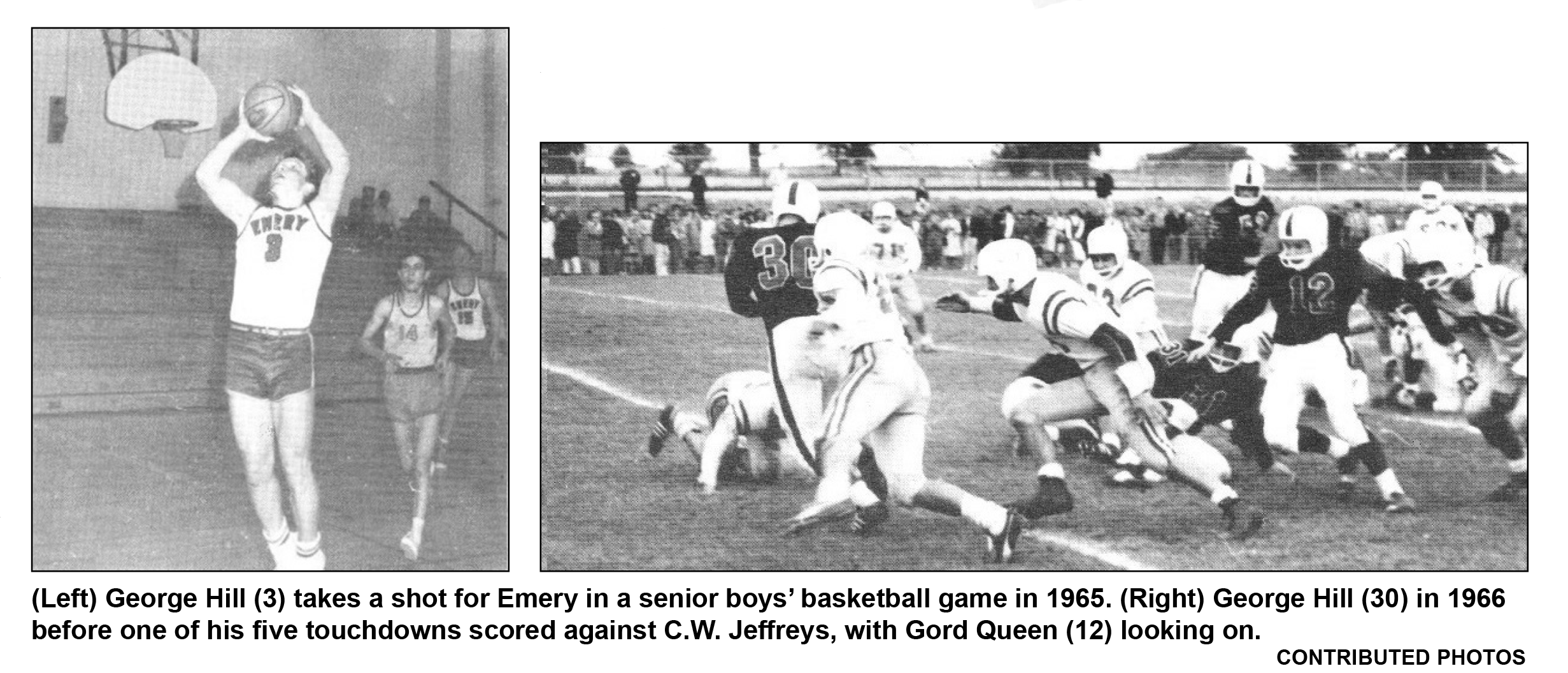 Fifty years after Hill's Western Mustangs won the school's first National Football Championship, history has repeated itself with this year's team raising the Vanier Cup for the eighth time. Few people could appreciate this team's joy and sense of accomplishment as deeply as George Hill. The memories of the '71 Mustangs' victory remain vivid, as do the memories of those formative days at Emery, where it all started for this Original Hillman!
Give me an "E."