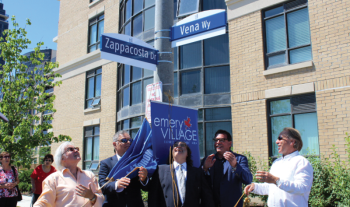 By Sean Delaney
On July 19, the City of Toronto paid tribute to two of Emery's more famous professional musicians with streets named in their honour. The street signs were officially unveiled in the new Casa Development south of Finch on the east side of Weston Road. The new streets are situated where the demolished Finch West Mall, built in 1970, used to be.
Prior to the mall being there, the land was used for agricultural purposes as part of the Ella Farm. Half-brothers Aubrey Ella and Orrie Truman built a farmhouse on the site in the 1930's.
The area of the former Ella barn is now known as Zappacosta Drive and Vena Way.
Alfie Zappacosta and Claudio Vena are instrumentalists who attended Emery Collegiate Institute and each are globally recognized, award winning professional musicians. The new streets are also within a beautiful new residential complex created by Medallion Properties.
Attending the sign unveiling ceremony on behalf of the development corporation was property manager Alex Bellissimo.
A notable highlight during the official ceremony was Emery Collegiate Institute's former music department head, Baird Knechtel. He provided some moving and kind-hearted words about his former music student, Claudio Vena.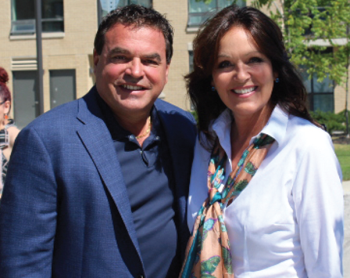 Adding some extra elegance to the occasion, Mr. Knechtel performed a live version of "On the Street Where You Live" on his viola.
As well, Zappacosta's sister Loretta assisted in the official ceremony by delivering her older brother's introduction. And Zappacosta's assistant Brenda was busy chatting away with one of his former classmates from 1967, Cedric Cyr.
Claudio Vena's sons, Tristen and Franklin attended the opening with great pride along with Claudio's mother Colomba.
Even famous Emery nightclub jazz singer and former Vena classmate, Carol McCartney, was present on this historic day.
Emery Village BIA board members Ralph Shepherd and Tony D'Aversa attended on behalf of the Emery Village BIA's Board of Management. Representing the City was local city councillor, Giorgio Mammoliti, who headed up the unveiling ceremony revealing the true significance of the day.
To spruce the event up nicely, Emery BIA's executive director Sandra Farina erected a tent complete with delightful refreshments that were served while exquisite music was played.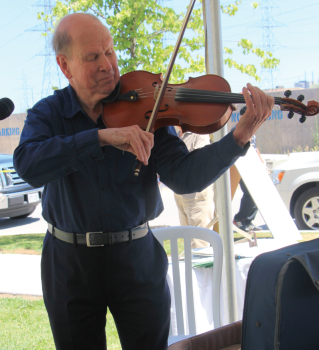 During some of his socializing, Zappacosta was so thrilled with his new street sign that he hollered, "This is something that doesn't happen every day."
To wrap up the end of a perfect day, Mammoliti noted that a future outdoor public square is to be built within the Casa complex and it is expected to serve as a fabulous area for open-air music events for the community.
Another fitting tribute to two of Emery's finest.