From the proceeds of the first annual Emery Village Gala, Emery Charity presented a $100,000 cheque to Tony Sampogna of the Humber River Hospital Foundation.
The Humber River Hospital will provide, state of the art health services to all of the Emery community and beyond.
What a night!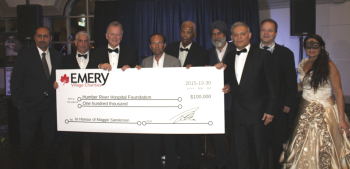 Silvio Carnovale BIA, Jeff Kemp, Steve Sanderson-Founding BIA member, Tony Sampogna- Humber River Hospital Foundation, George McKenzie – much loved Emery resident, Harbhajan Dhillon,Tony D'Aversa BIA, Tim Lambrinos BIA and BIA executive director Sandra Farina.