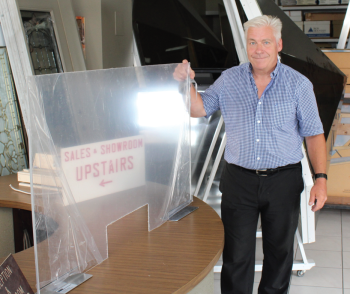 By Sean Delaney
Would you believe an Emery business was on the ground floor of a household feature that's never on the ground?
That's the story with Allied Plastic Skylights. And it's not even the whole story.
"Back in the early 1970s, my father purchased Allied Skylights," said Allied president Todd Bruhm about the business founder Ron Bruhm. "My father was very mechanical and always looking for a deal, looking for something unique. He came across Allied in the early '70s and the owner at the time was looking to retire."
Allied was at that time, Allied Sign Letters Ltd. They produced three-dimensional plastic letters for business signs. Bruhm explained that it was a really unique buy for his father at that time because skylights hadn't hit their heyday. In fact, many in the housing industry still weren't that familiar with the product. His father had been selling engraving machines, to ski clubs, jewelry stores and was a man on the road who came across things. When he was introduced to the skylight, he saw a future. With the expertise in bubbled plastic Allied already possessed, he found his way onto the ground floor.
"My father made a deal with the owner of Allied, who stayed on for a few years, and they transitioned Allied Sign Letters to Allied Skylights," Bruhm said.
The pair began developing a skylight, and his father took the basic idea of the bubbled plastic and enhanced it. He patented a vinyl frame system that allowed the skylights to be easily installed and attached to a house.
"You could mount it right to the roof decking and the shingles," Bruhm said.
The skylight wasn't that well known, however, but that's where his father's talent really began to shine. He was a man who loved promotion and was very experienced in sales. He took the family and the product to the Toronto Home Show.
"The exposure we got at that show was tremendous," Bruhm said. "We did it every year. The booth wasn't that big, but my father would set up these psychedelic lights that would light up the skylight, and people would come from all over the show. 'What's a skylight?' they'd want to know. Then by '78, they were a fad."
Bruhm said there have been hiccups in the industry. A new product in the '70s, many roofing companies he said, didn't understand skylights, and there would be leakage problems. At first, he said, the product gained a bad reputation because of this, but as the years went by and the industry itself became more familiar with the product, those days are long past, he said.
"I would say 50 percent of new homes are putting skylights in."
Throughout the 1980s, Ron Bruhm began to acquire other companies, and such was the genesis of Viceroy Rubber & Plastics, another company in the family ownership group.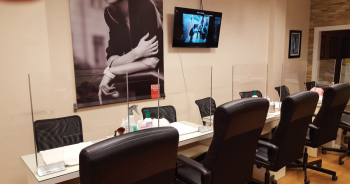 Viceroy's main product is hockey pucks, and at one time, the company produced the official puck of the National Hockey League (NHL).
They've shut down the manufacturing side of Viceroy, however, and with outsourced manufacturing, run it as a distribution company out of the Allied building.
It's been 37 years of expanding and adapting the successful family business to the times. And as they continue to build their history, that willingness to adapt to the needs of the community and customers around them continues.
As the COVID-19 pandemic created needs, Allied began developing desk shields for customers.
It began with a push to construct a few for their own offices, and soon, with their reputation for quality behind them, demand grew.
They now produce three standard sizes of desk shields in 24, 36 and 48 inch widths with a standard height of 32 inches, and can include options such as slots for passing items through the shields.
You can see their desk shields in car dealerships, doctor's offices, pharmacies, Pita Pits and even the Buttonville airport.
Allied is located at 707 Arrow Rd.
You can reach them by phone at: 416-749-7070
You can find them on the web at: www.allied2000.com
And you can reach them via email: info@allied2000.com, or on social media at: www.facebook.com/Allied.Plastic.Skylights/