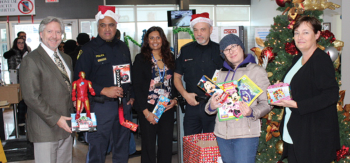 By Sean Delaney
You can always count Accident Support Services Ltd. to lend a helping hand to collect donations of toys for needy children in the Emery Area.
Friends from 31 Division, along with local OPP who work at Accident Support Services, helped to coordinate the effort this year.
Our hats go off to Accident Support Services founder Steve Sanderson who has always been a great community supporter in Emery along with Jacqueline Fountain, Darren Fitzgibbon and Ashley Kendal for their great assistance.
There will certainly be many more happy children come this Christmas morning.