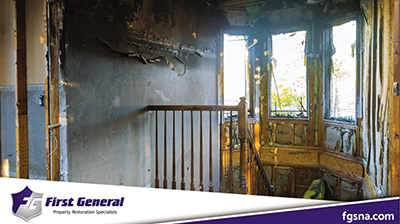 By Sean Delaney
Nearing 40 years in the property restoration industry, First General, now owned and operated by Emery Village's own Mirabelli Corporation, is a one-stop-shop for people on some of the worst days of their lives.
Established in 1983, First General has led the property damage restoration industry in technology, service, and customer approval rating. Coordinating your restoration needs, their focus is always on offering peace of mind and satisfaction in an otherwise stressful situation.
"Our family has always been involved in the property business," said First General CEO Frank Mirabelli. "It began in Thunder Bay, where we would use the services of restoration companies on our commercial properties. An opportunity presented itself for us to buy a restoration company, and it only made sense seeing how much we were paying for these services."
Once his family bought that company and grew it from a very small business into a significant part of the market in Thunder Bay, the brand owner for the First General business across Canada and the US expressed an interest in retiring. Mirabelli caught wind of it and seized the opportunity to buy out the entire Frist General brand.
So, instead of becoming an affiliate, they became the owner of the brand of First General, including the offices across Canada.
"We operate in an environment where we have two people we serve," Mirabelli said about the business. "The clients are the insurance companies, but we also serve the property owner. It's an interesting spot to be in, where you're really serving two different stakeholders, but we're able to navigate those waters well. We know that what we do is extremely important. We go into basements when there has been a sewer backup, flood, or fire, and the house is damaged. We help people at some of the worst points of their lives and help them get through it."
As Mirabelli explained, technologies play a significant role in discovering new efficiencies within the business, providing services more quickly and at a reduced cost. And now, First General is playing a part in revolutionizing the industry. At the same time, they are coaching and mentoring their offices to ensure they are providing the top level of service across the country.
It's a different position than being a hands-on restoration specialist. Still, now that they run the corporate offices, this is the role they've inherited, bringing the same meticulous eye to policy and production. They now wrestle with supply chain issues, labour availability, and inflationary pricing.
"It becomes a little more difficult to navigate," Mirabelli said. "But we enjoy the task of providing the best service possible to our customers."
And Mirabelli is ensuring his First General business is as customer and environment focused as his original company was.
"Our business has always been very environmentally sensitive," he said. "From the outset, anything that can be salvaged or dried, we attempt to. If we can dry drywall, we will, rather than replace it. Number one it is good for the environment, but at the same time it helps the insurance industry because it helps reduce the overall claim cost. This ensures our customers are happy and receiving the highest quality products and service."
To find out more about First General or to find contact information for any of their numerous offices, find them online at:
fgsna.com/first-general