This school year has been one of constant change in response to COVID-19, and the adjustment has not always been easy for young patients. A few months ago, before schools were planning to reopen after months of being closed due to the pandemic, clinicians working in Humber River Hospital's Child & Adolescent Mental Health Program noticed that many young patients were experiencing anxiety, trouble thinking, and difficulties sleeping in anticipation of going back to school.
Flora, a Child and Youth Worker, and Melice, a Social Worker in the Child & Adolescent Mental Health Program teamed up to develop a one-day workshop for 13-17 year-old outpatients experiencing back-to-school fears.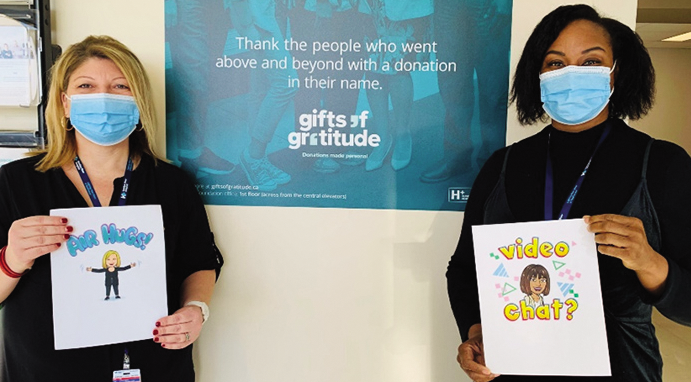 "Our Managing Emotions Workshop was a fun day on hospital grounds," Flora said. "Melice and I taught the kids how to meditate to support their sleep, planned an obstacle course outside, and collaborated with the Hospital's Infection Prevention and Control Team to make sure we could do everything physically-distanced and safe."
The obstacle course was designed to increase the kids' heart rates and get them sweating – mimicking some of the sensations of a panic attack. Then the kids were asked to quickly switch to a new task; writing themselves positive messages on small pieces of paper.
"We encouraged them to get wild, doing planks, hula-hooping, jumping rope," Melice said. "Once their heart rate was up we had them move on to the writing, which required focus and fine motor skills."
In a survey taken that day, all of the participants reported that they learned a new skill, like taking breaks or managing their emotions better, and that they expected to use their new skills in the future.
"The impact was phenomenal," Flora said. "The kids were so enthusiastic, they were energetic, and they wanted more. Many of them wanted to stay longer."
Melice said they had a lot of fun, especially with the physical elements, and that they got the feedback the youth enjoyed learning how to be more patient with themselves.
"I am happy we were able to support them going back to school."