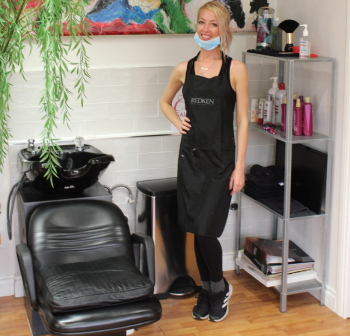 While small business have been allowed to open their doors, restrictions and hardship remain
By Sean Delaney
In March of 2020, the COVID-19 coronavirus pandemic became a very real difficulty for small business. It closed them down.
But as the Province of Ontario, and Canada, begin to get the pandemic under control, economies begin to slowly reopen. Stage two meant many small businesses were able to do just that. But the reopening wasn't complete and according to Clarity Salon and Spa owner Claire Armstrong, the struggle remains.
"We've opened up, but we're not allowed to do things like hair washing yet, because it's too close contact with the customer," Armstrong said. "So, I'm doing what I can and wearing a mask. We can't even really do a full haircut around the ears with customers having to keep a mask on, but the customers are understanding and still coming in for some services."
This would have been Armstrong's third year in business, and was an exciting time for her. She had a third year anniversary planned. She had been looking to rent out two chairs within her salon to other stylists and begin to expand. But, she said, the coronavirus has put all of that on pause.
"I was going to start putting fliers around the neighbourhood, and start to really start getting to know the neighbourhood and have them get to know us, but everything has been put on hold."
Stage three would mean more ability for Armstrong, but even then she said, her salon won't be able to do blow drys if there is more than one person in the salon, and she fears the consequences of reopening too quickly.
"I want a better understanding of the virus for me and my customers," she said. "I want to ensure that when I do reopen completely, it is safe for everyone."
Armstrong's goal for now, she said, is to simply be able to maintain her business. Her own loyal clientele was growing steadily, and she knows the demand will be there. And while she will take on new clients, she is going to limit her spa to appointment only visits right now and continue to keep her business as safe as possible for her clients.
"I would love to expand, that's what business is, but I just feel like now, everything is put on halt for a reason, and it is smarter to just wait until we know it's completely safe."
If you are in need of salon services, you can reach Armstrong to make your own personal appointment with her.
You can reach Clarity Salon and Spa by phone at: 647-970-2327, or find them online at: www.claritysalonspa.com
Email Armstrong at: Claritysalonspa2017@gmail.com
The spa is located at 16 Rivalda Road.