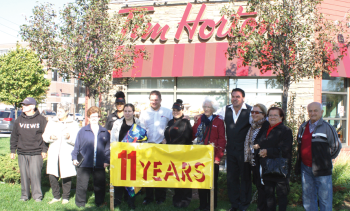 The staff and management team at Emery Tim Horton's (located at 2304 Sheppard Ave. West) would like to thank all of their loyal and valued guests in Emery village for helping celebrate the 11th anniversary on Oct. 17.
Laura Kolokotronis, store manager said that, "The Anniversary was a busy day as always!"
Mrs. Lee Jackson, one of our most loyal and gracious customers helps to organize this yearly event.
"Lee was wonderful as always," said Liza Shepherd, daughter of the owner. Lee was busy handing out timbits, hanging signs and cutting the delicious anniversary cake. "We would also like to send a special thanks to Ward 7 Councillor Giorgio Mammoliti and his assistant Jason Wang for their attendance along with local community champion and local artist, Lucy Catania.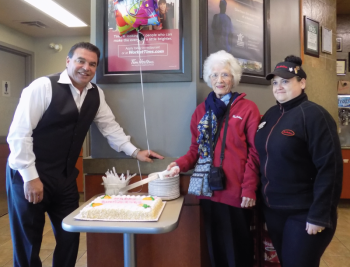 "Lee Jackson, has been one of the most loyal guests since the first day that they opened. Without Lee's help the anniversary would just not be as special. We all enjoyed free coffee and some very special anniversary cake," said Ralph Shepherd, proud owner of the store.
"We thank everyone for their continued support of us along with our wonderful community in Emery Village.
"We look forward to celebrating many more milestones together."