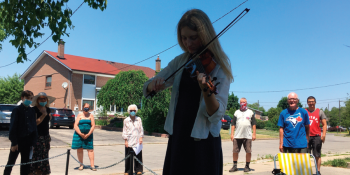 By Sean Delaney
Many in Emery look forward each year to the third Tuesday of June, and Neighbours Night Out on Franson Crescent.
Longtime resident Lee Jackson graciously hosts the community gathering annually. This year would have been its 21st anniversary.
But in 2020, the COVID-19 pandemic means a traditional community get together isn't possible.
This pandemic has changed many hardened rituals. Jackson hasn't been to her church due to decreased strength and COVID-19 rules, so the Kipling Avenue Baptist Church has been coming every week or two to visit and bring a joyful spark of spontaneous fun and life to her street.
The festivities start at Lee Jackson's front walkway (her brother comes out too). Slowly doors open, residents fill their porches, driveways have lawn chairs, gardeners look up, drivers pause, a little five-year-old neighbour comes out with his mom and listens (his dad is a DJ and once played high school violin...this little boy has a ukulele and makes up songs – one in particular about the science centre trip he took).
Jackson's love and faith are strong and flows from her most when she is sharing life with others. And it is a love that needs to flow outward and reach her neighbours as well as everyone who comes across her path. She is happiest when sharing this love and life with others.
Anne-Marie is a member of Jackson's church and said, "We all share in that together as we gather, be it for a brief moment or an hour. These gentle expression of kindness that brings peace to hearts, and a sparkle of joyful hope. It's a window of time when everyone recognizes we have oneness in our relationship with each other as neighbours. Sharing a moment of life and hope together."
Jackson's father was a violinist and played for his family in the Gáspe.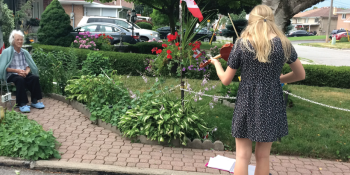 Virginia Smith, the violinist pictured, started to study violin in Grade 2. She has moved around a lot, and has had a variety of lessons throughout her learning curve.
With COVID-19 restrictions in place, church musicians had to stay home, and Smith is the only one in her family who could carry the music for the church's online services.
The photo above shows her with her new violin and Smith said she is thrilled to share the joy of music with others and always has a song in her heart.