Councillor's Corner - October 2023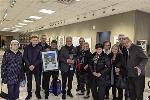 Councillor's Corner Dear Resident, I'm thrilled to update you on the significant progress made in preserving the Marian Shrine of Gratitude. On October 10th, the Toronto Preservation Board agreed to include the Marian Shrine of Gratitude on the listing statement for 3100 Weston Rd. This inclusion ...
Preservation Battle: Can Heritage Designation save local shrine from demolition?

By Ayesha Khan Hidden behind the North York community centre lies a cherished haven for Christian believers – the Marian Shrine of Gratitude. For nearly two decades, devoted volunteers have lovingly tended to this sacred place, fearing that its existence is now hanging by a thread. Over seven ...