Councillor's Corner - September 2021

Dear Resident, All of the Toronto Public Library branches offer the public an opportunity to access and print their own vaccination records free of charge. There are also various ways of storing your information on your smartphone for safe, secure and convenient retrieval by downloading the Minis...
Public health roles and responsibilities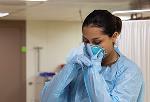 If 2020 brought us anything, it was a renewed relationship with our public health authorities. When the world is not battling a global pandemic, we often think of them as health education resources. But have you ever wondered, just what our federal and provincial public health agencies do? And who i...