Celebrating anthother successful Emery Village food and toy drive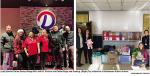 By Sean Delaney Putting a smile on a child's face is essential this time of year. Numerous local businesses help contribute to the many community toy and food drives. The goal is to see all children experience the wonder and joy of receiving a gift, while families can celebrate the festive sea...
Emery Village BIA and 31 Division toy drive

Delta Bingo and Gaming Downsview aids 2018 initiative By Sean Delaney Provincial Constable Jennifer Rai, who helps assist 31 Division with community outreach in the Emery Village area, along with other members from the Division, were on hand at Delta Bingo and Gaming Downsview to pick up toy...