Pandemic sees food bank usage soar, and Emery step up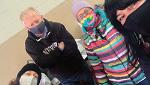 By Sean Delaney The Weston Area Emergency Support (WAES) food bank has never seen a year like 2020. But throughout the pandemic, WAES chair Diana Stapleton said it's also been a year that has shown just what a community can do when the need becomes great. "It's been a really amazing experience, to...
Hunger is real and you can help

By Sean Delaney Among the challenges food banks are experiencing, the COVID pandemic has also created a significant loss of volunteers, which threatens the ability of food banks to remain open. Michael Verrelli and Brigette Contento have been volunteers at the W.A.E.S (Weston Area Emergency Su...