Toronto's oldest tree will no longer be cut down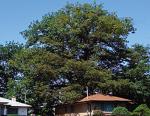 By Sean Delaney Thanks to a last minute decision by Toronto's council one of Canada's oldest trees, a towering red oak believed to be more than 250 years old, will be saved for future generations. On November 26, council voted to preserve the tree and purchase the property to create a parkette. Th...
This Toronto tree needs your help

By Sean Delaney Toronto's great red oak at 76 Coral Gable Drive has been a landmark and inspiration for more than two centuries. Due to its size, age, beauty and cultural significance, this magnificent 250-year-old red oak is recognized as a heritage tree under Forests Ontario's Heritage Tree P...