By Sean Delaney
Emery's great oak of Coral Gables Drive must have swayed the vote. Thank you to all who participated. Toronto's official tree is the oak.
The title was unveiled at Cedar Ridge Park on May 14. Mayor John Tory announced that the oak tree is now Toronto's Official tree and would join the Coat of Arms, Mayor's Chain of Office, and the Flag as an official City of Toronto symbol.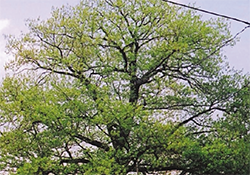 Toronto's Official Tree was selected by a public vote, held from April 21 to May 10, where Toronto residents could cast their vote for the tree, they felt best represents the City. Close to 11,000 votes were received, with the oak tree receiving 47 percent of the votes, the maple tree in second place with 31 percent, the birch tree with 14 percent, and the pine tree receiving eight percent of the votes. Toronto City staff engaged with Indigenous representatives and selected the four trees that most represent Toronto: birch, maple, oak, and pine.
Ceremonial symbols are used to communicate the history and culture of a city, highlight important features of the environment, and instil pride and unity amongst community members.
More information about the City's official symbols is available on: www.toronto.ca
Search for the Symbols webpage.